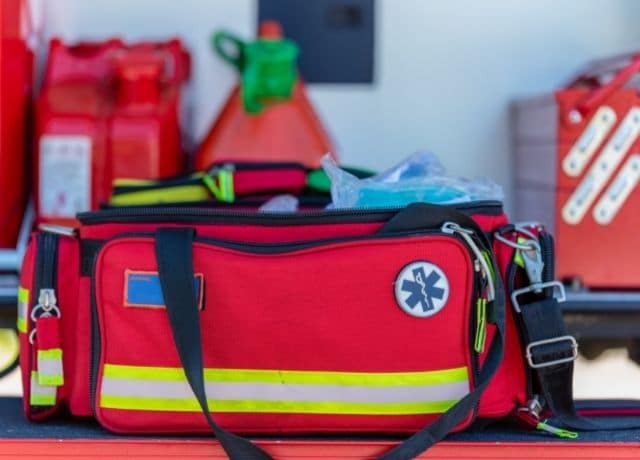 When the weather outside is frightful, it's time to bundle up inside too! Make sure your car is prepared for winter weather by stocking up on safety kits. Snow-capped and slippery roads, compromised visibility, snowstorms, and freezing temperatures can all lead to nightmares. Getting stuck in any of the unpredictable situations during freezing winters can be fatal. 
Various winter safety kits for cars can be really helpful in the worst of conditions. These winter safety kits for cars are specially made to increase survival chances even if roadside assistance is away. You don't want to risk your family members' lives or depend on a stranger's help.
Keeping any of the following winter safety kits for cars will give you a sense of safety, and peace of mind and may even save a life if you get stranded for days.
Depending on your needs and preferences, you will have to decide which kit you want to opt for. To help you make the final decision, we are going to take you through the 5 best winter safety kits you can keep in your car during extreme winters. 
8 best portable jump starter and air compressors | 2021 guide
Are you ever worried about having a breakdown or dead battery while on the road? INEX Life emergency survival kit puts your mind at ease with its 112-piece winter car emergency kit. Whether it's a dead battery, breakdowns, or winter climate, this kit has you covered with durable and easy-to-use products. 
Never be unprepared on the side of the road. This all-inclusive pack features everything you could possibly need in an emergency situation, including a screwdriver set, flashlight, first aid kit, highway safety jacket, emergency blanket, and raincoat.
These winter car emergency kits are the ideal companion on any journey, providing you with a dependable and heavy-duty set of tools to help you in your time of need. 
This package includes 16-foot 8-gauge wire jump cables, a window/windshield breaker, and a seat belt cutter so you may quickly and safely escape from dangerous situations.
The set is great for men, women, and children of all ages, and it can be used in any type of vehicle. 
If you have an INEX Life Emergency Survival Pack, you'll never have to worry about being stranded on the side of the road again. The reflective plates on its tough case make it easier to see in low light or bad weather. In addition to being lightweight and compact, it also fits comfortably in your vehicle's trunk, backseat, or spare tire compartment.
Pros
Multifunctional toolset

15 zip ties
Multifunctional screwdriver with bits and sockets
Tow strap ropes
First aid kit
Reflective safety warning triangles and vest
Cons
Not the best quality jumper cables
An expensive kit
It doesn't contain a tire repair kit
7 outstanding cool things to do to your car interior 2021 guide
Are you an adventure-seeker looking for reliable winter car emergency kits? HAIPHAIK is the one for you! This comprehensive 124-piece kit includes all the necessary tools to keep your car safe in any emergency. 
Not only does this kit provide an advanced 11.8-foot jumper cable with overload protection, but it also contains tire repair tools, a multi-function shovel, and a traction rope to help you get out of any situation quickly and safely. 
In addition, this kit includes essential items such as a flashlight, gloves, and a survival whistle – all packed neatly into one convenient bag.
Be prepared for any winter car emergency with the HAIPHAIK Kit. With the UL-approved jumper cables and nonconductive rubber alligator clips in this package, you can be sure that power will be transferred safely and reliably.
The HAIPHAIK Car Emergency Roadside Kit is designed to help you be ready for any emergency with your vehicle. Because of its small and compact form, it can be easily stored in any car. The DIY tools are protected from dirt and dust by the hard plastic case, so they are always ready when you are.
Ideal for four-wheelers, off-road vehicles, RV camping, and truck drivers — this kit has it all to make sure that you're safe no matter where the road takes you!
Pros
124 pieces
Toolbox
Multifunctional snow shovel
Jumper cables
Hand squeezed flashlight
Cons
No First aid kit
Not the best quality products
Small snow shovel
Don't get stranded on the side of the road again! BLIKZONE Auto Roadside Assistance is here to help with all your auto emergency needs. This 82-piece kit has everything you need to jump-start your vehicle, including a powerful air compressor and 12vdc LCD digital heavy-duty 8 gauge battery booster cables.
The 19-piece circuit tester set will make it simple to find the source of any electrical issues. BLIKZONE ensures that you'll never have to spend another frustrating hour stranded in the middle of nowhere. It's like having a mechanic in your trunk!
An upgraded 5-ton tow strap with hooks and a sturdy, reflective safety vest are just two of the items you'll find in this 7-piece tire repair kit, which is an absolute necessity for any car's emergency toolkit. 
These will help you feel protected knowing that you may get assistance in the event of an emergency while out on the road.
This revolutionary product offers all the essentials you need for optimum safety when dealing with an unexpected vehicle stoppage. 
The emergency rain ponchos, mylar space blanket, and other supplies in the kit will keep you dry and warm in the event of a sudden downpour, while the reflective warning triangle, safety vest, light sticks, and hand-crank torch will keep you visible to oncoming cars.
In short, the Blinkzone 82-pc auto roadside assistance car kit is more of a complete package that everyone would want to keep in the car.
Pros
A durable and well-organized bag
82 pieces
Portable air compressor
Jump starter cables
5-ton capacity tow strap
Circuit tester pen
Tire repair kit
Safety and escape tools
Reflective vest
Cons
It doesn't contain a first-aid kit
It doesn't contain a toolset
A bit heavy (10.88 pounds/ 4.9 kg)
For more than 100 years, AAA has been one of the most trusted names in the automotive industry. You can never go wrong with an AAA brand. They make sure that you get just the finest product.
Lifeline 4388AAA contains 76 pieces to help you stay prepared for any unforeseeable event, especially during the winter.
This kit contains various products ranging from a 45-piece first aid kit to auto safety essentials. The air compressor will help you inflate a flat tire and is a useful outdoor product.
Plus, you get a 10ft 8 gauge booster cable, flathead and Philips screwdriver, gloves, pliers, bungee cord, emergency poncho, whistle, 2 shop cloths, 10 cable ties, and much more.
Its bright LED flashlight helps you see in dark environments, whereas the 3 batteries make sure that the flashlight lasts a long time. Its DOT warning triangle draws attention in case of a breakdown on the roadside.
Keeping in mind your safety, going for this winter emergency kit might be a good choice.
Pros
76 pieces
Air compressor
Essential safety accessories
Booster cable
Essential tools
LED flashlight with 3 batteries
Cons
An expensive kit
Single warning triangle
Doesn't contain a reflective vest
Out of all the winter safety kits for cars, this is perhaps the only one from a TV program. The Top Gear premium roadside assistance kit contains 66 essential items.
High-quality battery booster cables will get your car back on the road. You can also use its multi-function tool for 14 different functions. The dual light sticks will give you additional light during nighttime repairs and reading so you don't have to burn the battery.
You also get a hand-squeezed flashlight powered by a hand-squeezed pump so it never runs out. So, with various blinking options, you get an additional light source.
This kit also contains a warning triangle, reflective vest, gloves, emergency rain poncho, electric duct tape, a bungee cord, emergency survival wrap, emergency whistle, and a mini 34-piece first aid kit.
Distinctively, this kit contains an accident report form, which isn't available in any of the kits. Now you can get all the relevant information about what happened at the scene of the accident. You can also use the attached carbon copy to give information to other parties.
Pros
66 pieces
Accident report form
Multi-functional tool
Hand-squeezed flashlight
Emergency Survival wrap
Jumper cables
Cons
Too short jumper cables
Basic first aid kit
Contains a single reflective triangle
No air compressor
These are the 5 best winter safety kits you may be looking for. Keeping any of the following winter safety kits for cars in the trunk will give you peace of mind on the go. Each kit with its distinctive features gives you extra safety every time you hit the road.
That's not all! There are a few other essential products you must keep in the car every time you start your journey during winter. Have a look at them.
Other Essentials To Keep In The Car:
As you know, none of the kits are perfect as every kit lags some of the essential products. Keeping the following spectacular life-saving products can be super handy at times.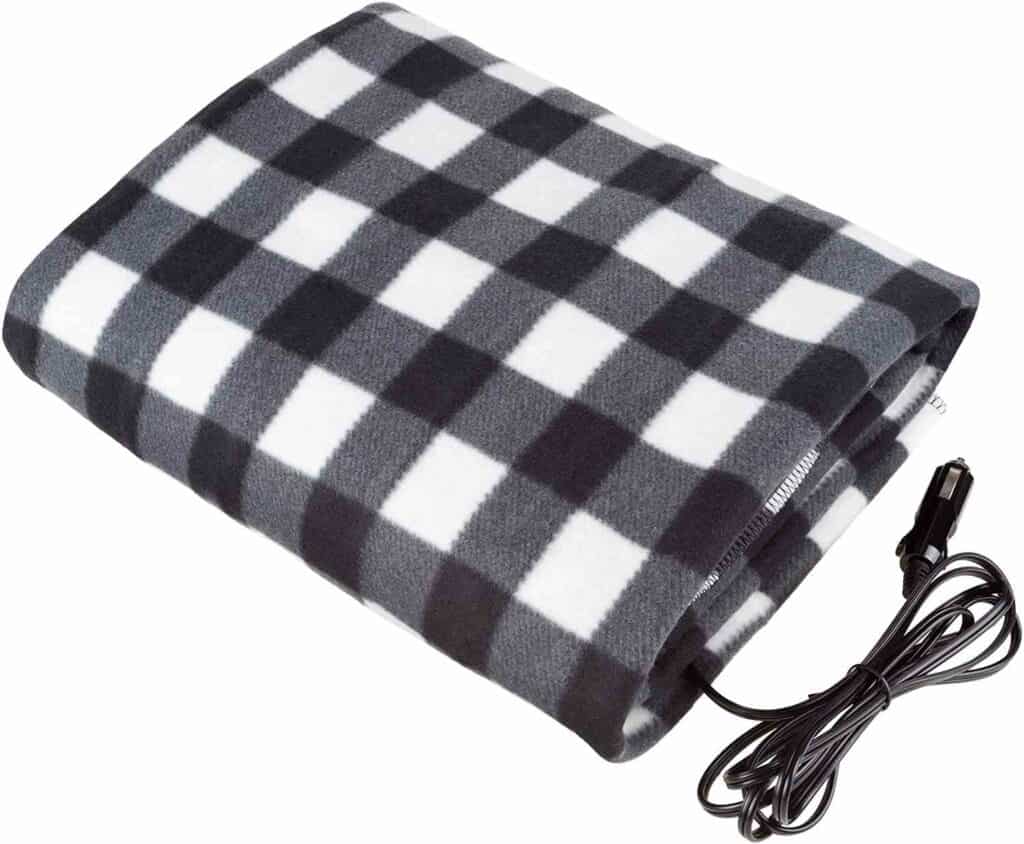 A perfect cold-weather driving accessory by Stalwart for your vehicle. This 12-volt electric blanket can be plugged into the cigarette lighter, and with its 96-inch (8 ft.) cord it can also be used by backseat passengers. 
This lightweight blanket offers comfort and warmth while making your winter road trips cozy. This product is great for winter driving trips and outdoor activities. Blankets fold effortlessly and can be stored in the trunk without compromising space.
The specs of the Stalwart electric blanket not only make it ideal for winter but also a great gift for your loved ones.
Pros
Comfortable heat
Runs on a 12 volt
Connected using a cigarette lighter
96-inch cord
Cons
Not machine washable
No adjustable temperature setting
Various complaints about blankets catching fire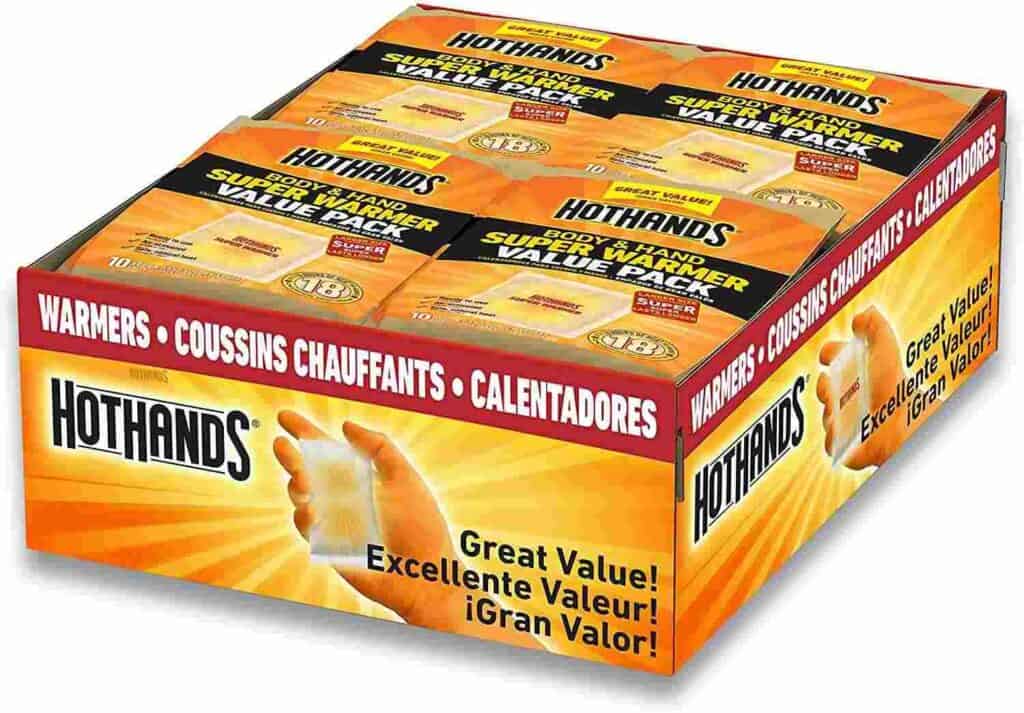 A must-have item that can give you heat for up to 18 hours. Yes! Using the air-activated single-use Hothands body and hand super warmer you get continuous warmth for up to 18 continuous hours. These are ideal for keeping your body warm when the temperature goes down.
They are designed to be used anytime, anywhere. The odorless quality makes them more comfortable to use. With a shelf life of 3-4 years, you can keep them in your car for a long time.
These are not only ideal for winter driving, but also for outdoor activities such as hunting and fishing, hiking, camping, and tailgating at events.
Getting toe warmers along will give you extra warmth during winter. When used together they make a perfect combination and give you extra comfort.
Pros
Long-lasting
Shelf life 3-4 years
Air activated
Safe heat
Cons
Expensive
Warmer takes 15-30 minutes to heat properly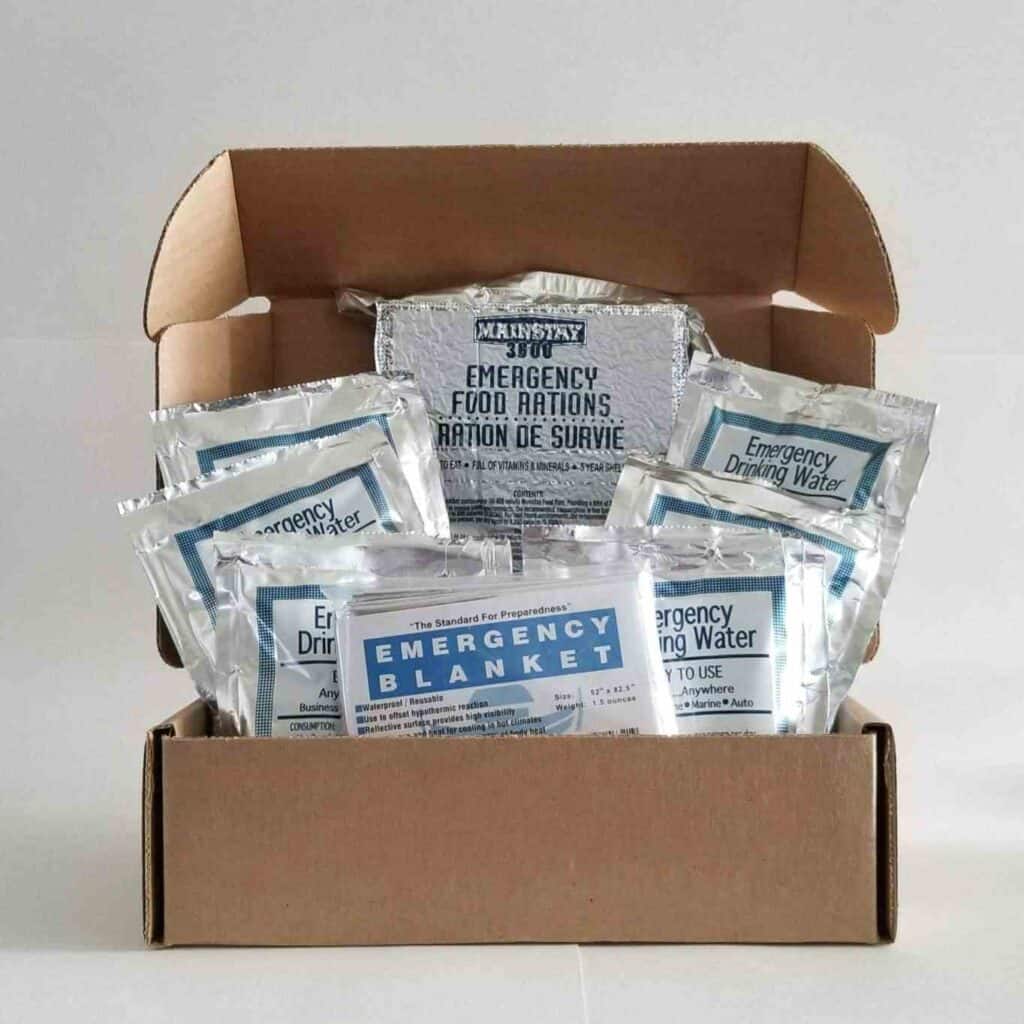 An indispensable product you must keep in the car every time you travel, especially during winter driving. Getting stuck in the winter can take up to several days if the winter hits hard.
Due to snowstorms, you may get into a situation where you are stuck and when help will arrive you don't know what to expect. In these circumstances, this product can be a lifesaver.
The chances of your survival only increase if you have enough supplies in the car. To tackle this situation, a LaunchPro emergency food, water, and thermal blanket can save your life.
This survival kit includes a 3-day water supply and a 3-day food supply. Approved by the US Coast Guard, this survival kit is made with a shelf life (both water and food) of 5 years. The thermal blanket included in the kit is capable of capturing 90% of your body heat.
The pleasant lemon-flavored food is Halal and Kosher certified and can withstand temperatures from -40°F to 300°F. Whereas the water can withstand temperatures from -40°F to 201°F.  
Before buying this survival kit, remember that this kit is only for a single person. You have to buy a separate kit for every car you own.
All in all, you must have this survival kit not only in your car but also at your home and office. Also, while exploring nature, having this kit gives you peace of mind.
Pros
US Coast Guard approved
5 years of shelf life
Withstand extreme temperatures
Enough food and water for 3 days
Cons
One kit is only for one person
Last only 3 days
These were the most essential products to always keep with the winter safety kits for cars. Since none of the kits are perfect, keeping these things in the car gives you an extra sense of safety, adds comfort, and increases your survival chances.
Make Your Own Winter Car Emergency Kit:
In the world of diversity, you may not be able to decide which of the winter safety kits you want. Or you may find these kits expensive as you can also make your winter emergency kit yourself.
Yes! You can make yourself a winter emergency kit at a cheaper price. All you need is a simple guide of the things you need to keep in the kit. Consider the things you need to keep in mind before making your own kit.
Keep in mind that the kit you are going to make should be comprehensive and compact. You have to keep only the essentials in the winter car emergency kit, the more things you keep the less compact the kit will be. The compact kit will help you keep stuff in the trunk without any compromise.
Things To Keep In The Kit: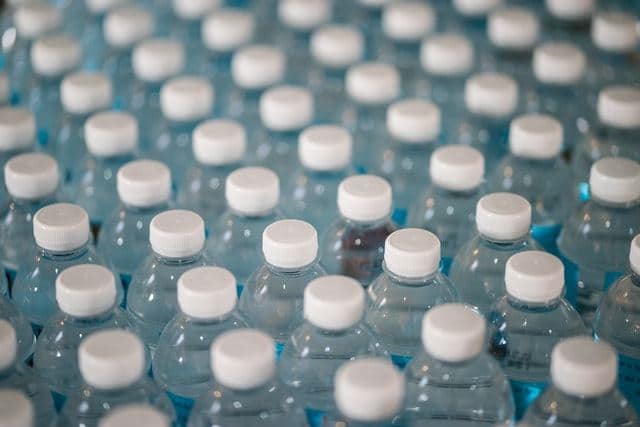 Emergency food rations and bottled water: No winter safety kits for cars is complete without emergency food and water. When a snowstorm hits, getting stranded from the outside world is known, which may last for several days. During that time you need water and food to survive until help arrives. 
You can find emergency food and water in stores, but you can also prepare it yourself. In food, you should choose canned foods, emergency meals ready to eat (MRE), and high-calorie protein bars. Since you don't have a source for cooking food, keep ready-to-eat food in your car. Also, keep the can opener in the car.
During winter driving, people are usually less thirsty and tend to leave the water at home. That's where they commit blunders. Even if you are not thirsty, drinking water will keep you hydrated and help in maintaining body temperature. You should keep at least 3-4 liters of water/per day for each person in the car.
You might be thinking that you can melt the snow and drink it, and yes, you can, but you shouldn't. Snow is often contaminated with pollutants and is not clean; drinking it is not safe. Keep enough water for each person in the car.
Instant heat packets: When winters hit, temperatures can easily get below -4 F. At such low temperatures, you need something to stay warm. You would want to use a car heater but for how long? After some time your car will run out of fuel what will you do after that? Instant heat packets will help you in this regard.
These packets are made to provide up to 18 hours of heat in a single use. These will help you prevent hypothermia. Keeping them in gloves for hands and socks for feet will give extra comfort while providing the necessary warmth.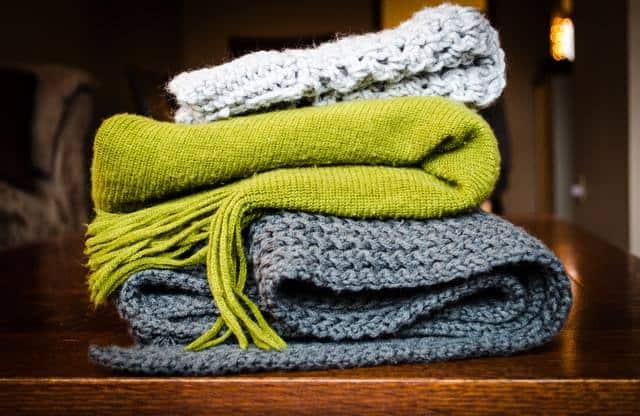 Extra warm clothes and sleepwear: nights becoming harsh during winter and getting stuck makes the situation even worse. Without proper clothing and sleepwear, you won't get any proper sleep. Keeping extra-warm clothes and sleepwear in the car gives you extra comfort during the night.
Keep a reflective blanket in the kit. These blankets don't take up much space and their heat-reflecting properties keep you warm. It traps your essential body heat underneath it and keeps your body warm throughout the night. 
Keep extra blankets, extra gloves, socks, and hats in the trunk of your car.
Emergency flashlights and batteries: Having an emergency flashlight in a car with extra batteries is a no-brainer. During the night, you need a light to look around, and to give a signal to the outer world, for that using a mobile phone will prove to be the worst decision. You need to conserve your phone battery to communicate. That's why having an emergency flashlight is essential. 
Keep a powerful flashlight, with extended battery life and a powerful throw, so that you see a wide area. Furthermore, you should also keep a lot of batteries for the flashlight, because as the temperature gets down, the actual life of the battery also decreases. 
You can easily keep one with various batteries in the dashboard.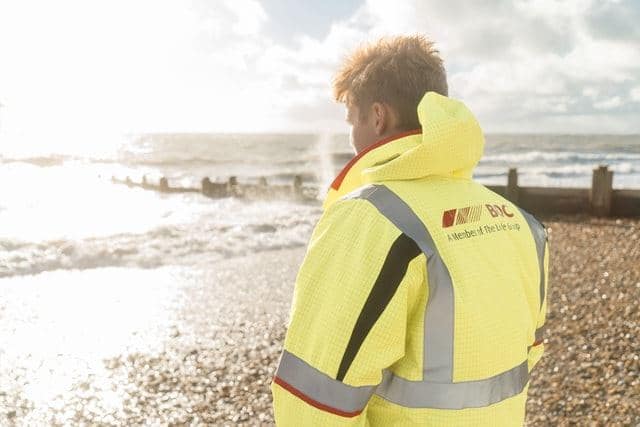 Reflective triangles, reflective vests, and flares: Keeping these products will help to get the attention of passing traffic. Especially during nighttime, if you don't want to burn the batteries of the light to get noticed use these products.
Wear a reflective vest that will help others identify you even in very low light conditions. Similarly, placing reflective triangles around the car can give an emergency signal to passing traffic. After noticing the flares, someone will surely come to your help. These things in your winter emergency car kit won't take up much space. 
Jumper cable kit: If the car battery dies, you will need jumper cables to jump-start your car. Maybe the person who stops by for help doesn't have good-quality battery booster cables. Keeping your high-quality jumper cables in the kit will give you an extra sense of safety and will come in handy at times.
Get a jumper cable kit along with a portable battery that will allow you to jump-start your car without the need to charge various electronic devices.
Having a jumper cable kit helps you jump-start the car but also helps you keep your various devices fully charged all the time and must be kept in your emergency survival kit.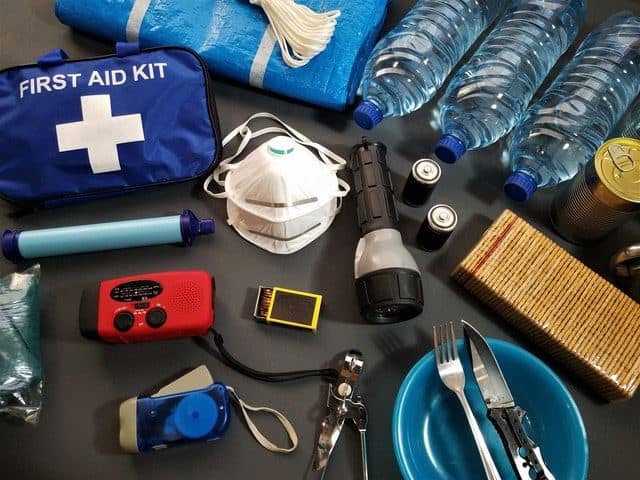 Other Vital Emergency Supplies: What you have to keep in your winter emergency kit is a long list of products. Make sure that along with the products listed above you have the following things in your winter emergency car kit as well: 
Necessary medications
First aid kit
Spare Cell phone charger
Portable Air compressor
Portable tool kit
Foldable snow shovel
Emergency rain poncho
Disinfectant wipes
waterproof documents pouch
Pages and pen
Garbage bags
Some books
Large tarp 
Ice melter
Snow chains
Snowbrush and Ice scraper
Candles and matches
Emergency Whistle
High-quality tow rope
Spare Tire
Duct Tape
Tire Pressure Gauge
Antiseptic Cream
These are all the essential things to keep in your winter emergency car kit the entire time you start your journey. The best idea is to always keep your kit in the trunk so that you don't forget it before you hit the road.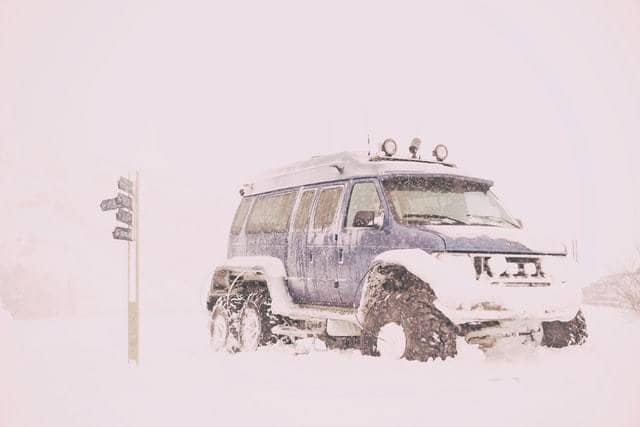 Essential Tips To Follow If You Are Stuck In The Snow:
Stay calm and don't get out of the car. Stay in your car as your car is a safe shelter.
Let in fresh air by opening a window on the side opposite the wind.
Stay awake and make certain movements to stay warm and let the blood circulate throughout the body.
Keep the engine off as much as possible, to save fuel.
Use a candle placed inside a deep can get some warmth from it.
Set up road flares and reflective triangles to make your car visible.
Turn on the ceiling lights and turn off your headlights or hazard lights as they will drain the battery.
Keep an eye on the outside of cars and signs of help.
Avoid getting wet, as it will cause your body heat to lose quickly. Whenever you go outside use a rain poncho this will help you stay dry.
Don't tire yourself out shoveling snow. Shoveling in the intense cold can be hazardous.
Conclusion:
In conclusion, it is important to be prepared while cold weather driving. A winter safety kit for your car can help keep you safe while on the road. Make sure to include items like a blanket, hand warmers, emergency food and water, Extra clothes, and a First aid kit.
If you are stranded on the side of the road, these items could make all the difference. If you don't have one of these kits, be sure to get one before the next winter storm hits.