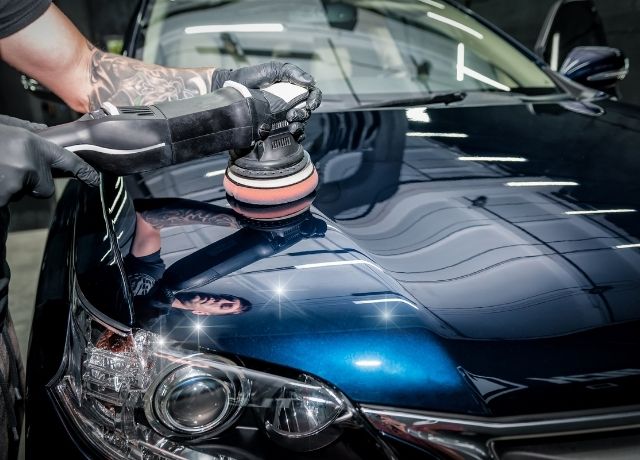 No car is perfect, and over time the paint will start to show signs of wear and tear. This is especially true for cars that are used often or that are exposed to the elements.
If you want to keep your car looking its best, you may need to have its paint corrected every once in a while. 
Getting your car to look like new might be a time-consuming procedure, but it's well worth it in the end. While there are a variety of ways to fix a car's paint, a paint correction kit is the quickest and most straightforward option.
Paint correction kits are a great way to get your paintings looking their best. These kits come with various products that can be used to:
Clean Paint
Fix Blemishes
Even Remove Scratches
By using the paint correction kit, you can quickly and easily improve the look of your car.
In this article, we have brought you the 11 best paint correction kits you can buy to give your car a whole new look. Let's get started:
9 Best 6×9 Speakers For Bass Without Amp
11 Best Paint Correction Kits:
A car paint correction kit can be a great way to improve the look of your vehicle. The kit includes a variety of products that can help remove scratches and other blemishes from the paint.
It is important to choose a kit that is specifically designed for cars, as this will provide the best results. Here are the 11 best paint correction products you can buy.
Chemical Guys TORQX Random Orbital Polisher One-Step Scratch & Swirl Removal Kit is the perfect paint correction kit for anyone looking to remove swirls and scratches from their paintwork. 
This kit comes equipped with a dual-action polisher with an 8mm dual-action orbital throw that ensures accurate polishing, while the rugged components make it tough enough to handle even the most challenging jobs.
The VSS One-Step Compound Polish formula works great on all types of paint and is formulated to correct mild swirls and scratches along with achieving the highest level of optical clarity.
The Orange Quantum Hex-Logic pad is designed for polishing and restoring gloss, depth, and reflection to your paint with just a few passes.
An additional bonus of this paint correction package is the inclusion of an extra-soft Monster Extreme Thickness Towel for added protection and softness.
Despite its high absorption and scratch-free washing, this microfiber towel is machine washable and reusable thanks to its premium 70/30 microfiber blend composition.
The products in this kit won't only remove blemishes on your car paint but also protect your car's finish from future damage. Check out Chemical Guys' scratch and swirl removal kit if you want to take your detailing to the next level.
Pros
680W TORQX Orbital Polisher
5 Products
Ideal for beginners and professionals 
Easy to use
Cons
Not Ideal for deep scratches
Lack of grip on the polisher
When at higher speeds hot air is blown directly into the arm
If your car is looking a little rough around the edges, but you don't have time to take it in for full detailing, Meguiar's G190200 Quik Scratch Eraser Kit might be just what you need. With this package, you'll be able to get rid of minor scratches and imperfections in a matter of minutes.
This kit contains an advanced formula that works quickly and safely to remove scratches, and blemishes, while also restoring a brilliant shine.
To quickly erase imperfections, dual-sided microfiber wipes are provided in the box. Using this towel when working on painted surfaces will help to avoid scratches. Machine washing makes it possible to reuse the fabric.
It also comes with a drill attachment so you don't have to exert any pressure on the scratch eraser pad. Also included in the package is ScratchX, which can help remove scratches and restore the shine to your car's paint.
This easy-to-use paint correction kit contains everything you need to quickly and easily erase scratches of all sizes, so your car can look its best. The Quik Scratch Eraser is safe for all types of paint finishes, and it dries quickly so you can get back on the road in no time.
Pros
All in one kit
Ideal for minor scratches
Affordable
Easy to use
Cons
Not great for deep scratches
Auto enthusiasts know that a good detailing job is a key to keeping your car looking its best. But even the most careful drivers can't avoid every scuff and scratch. That's where the 3M Auto Advanced Scratch and Scuff Removal Kit comes in.
This one of the best paint correction kits can help you get rid of those unsightly scratches on your car's finish without damaging the clear coat.
A 3000-grit abrasive square is included in this kit, which is soft enough to not harm the clear finish. With the foam applicator pad, the compound is evenly distributed and can reach every crevice and nook.
With the addition of scratch remover and rubbing compound, you have everything you need to get started right away. The rubbing compound helps restores the shine to your car's finish, while the scratch remover helps removes light scratches and swirl marks.
Even if you've never used these items before, following the given instructions will ensure that you get the best results possible.
Removing scratches and scuffs from your vehicle's clear coat has never been easier! With the 3M abrasives and application pads in the kit, you can safely remove any blemish without using any tools.
Plus, this kit is safe for use on any type of vehicle clear coat. So don't spend another day looking at those unsightly scratches and scuffs – get this one of the best paint correction products today!
Pros
Budget-Friendly
Easy to use
No tools required
Cons
Require caution while using
The results are not the best
If you're tired of your car looking like it's been in a fight, then you need Carfidant Scratch and Swirl Remover. This one of the best paint correction products helps restore your car's finish to its original glory.
A buffer pad and a specially formulated compound are included in this simple-to-use repair kit. With the buffer pad, you can easily apply the compound, which instantly fixes scratches and swirl marks.
Your car's paint will regain its former luster and sheen with the help of this paint correction kit. Water spots, oxidation, and other undesirable marks will be easily removed by the rubbing compound, leaving your car to appear restored and polished.
It's safe to use this remover on any type of paint or color, including clear coats, one-stage, and multi-stage paints. Because it's made to work with all kinds of waxes, this remover will always leave a beautiful shine behind on your project.
In short, this is one of the best paint correction kits you can get online. Plus, their 100% satisfaction guarantee ensures that you're always happy with your results or you will be given a 100% refund.
Note: If you have minor scratches or swirls on your car's paint, this remover can help to get rid of them in just a few minutes! However, this kit is not your answer if your car has deep scratches (that can be felt with fingernails).
Pros
Ideal for minor swirls and scratches
Easy to use
100% satisfaction guaranteed
Refund policy
Cons
Not useable on deep scratches
The kit doesn't contain a microfiber towel
A very basic kit
If you're looking for an advanced scratch swirl remover that doesn't require a lot of maintenance, the TriNova swirl remover is perfect. It is specially designed to make it easy to use and helps you achieve better results. 
You don't need special equipment or a polisher to use this high-tech compound; you can just use your hands! Apply a few drops on an applicator pad and gently rub away any swirls or scratches.
This product may be used on both new and old paint, and it works in all colors. Using Scratch Swirl Remover is an easy and fast way to remove scuffs, paint transfers, oxidation, water stains, and other surface impurities from your car's paintwork.
Despite the fact that it lacks the usual car wash accessories like shampoo, interior detailer, mitts, and towels, this package performs an excellent job of restoring your car's gloss. The TriNova product's price is really reasonable, especially when you consider the amount of polishing you get for your money.
To get the best possible results make sure to use this product at least twice a year.
Pros
Best for swirls and scratches
Easy to use
No need for special equipment
Cons
Doesn't work on deep scratches
The kit doesn't contain a microfiber towel
A very basic kit
When it comes to formula 1 scratch out, it's different from the other paint correction kits on this list because of its non-abrasive liquid wax formula. Formula 1 Scratch Out Car Wax Polish Liquid is a one-step system that eliminates fine scratches and swirl marks while restoring your car's paint color to a brighter, more vivid hue,  making your car look like new again!
The compound contains micro polishers that break down and remove the damage, restoring the paint to its original condition. Not only is it effective, but it's easy to use – just apply a small amount to a soft cloth and wipe away.
This Polish Liquid also contains powerful Carnauba wax that works equally on cars and motorcycles in protecting them from water beading while also keeping them from the elements. 
Besides removing scratches, this unique formula restores yellowed, scratched, and hazed headlights and taillights to like-new condition in just minutes. The liquid forms a protective layer that helps keep the headlights and taillights looking new.
Pros
Advanced Micropolisher
Non-abrasive liquid wax
Can be used on yellowed and hazed lights
Easy to use
Cons
Scratches are not polished away, but rather "fill" in.
ineffective for removing tree sap and bird droppings
Don't let your car's finish suffer any longer! Turtle Wax T-241A Polishing Compound & Scratch Remover is here to take care of those unsightly blemishes and oxidation. 
These best paint correction products are perfect for restoring old, oxidized finishes. This heavy-duty paste easily penetrates through the oxidized paint surface and removes scratches in no time. 
The easy-to-use formula is gentle enough to use on a variety of surfaces to get the job done right. This formula is designed to remove light scratches and oxidation, leaving behind a beautiful shine.
Just like the other kits on the list, this paint correction kit is suitable for minor scratches. If your car has got some deep scratches, buying this kit is a waste of money even though it is the cheapest. You will have to consider getting a new paint job rather than buying a paint correction kit.
Pros
Great for minor scratches
Easy-to-use
Cheap product
Cons
Not for deep scratches
Doesn't come with a buffer pad
Another on the list of best paint correction products is Nu Finish Car Care Kit. This Car Care Kit is simple and affordable that contains everything you need to remove scratches and polish your car to a brilliant shine. The kit includes Scratch Doctor Scratch Remover, 16 oz. bottle of Car Polish, and 2 reusable microfiber cloths. 
Your car's finish may be restored to its former glory using the Scratch Doctor Scratch Remover. Your car's exterior is in good hands with this safe and gentle formula that removes tar, birds' nest droppings, and pests with ease.
The Car Polish restores shine and protects against future damage. It restores and protects your finish with a clear coat that shines and lasts longer than wax.
It's also possible to use the two microfiber towels to clean both the exterior and interior of your car. The cloths can be used on any surface without damaging it, and they easily remove dirt, dust, and fingerprints from any location.
In other words, it's simple to use, so even a complete beginner may produce impressive results in a matter of minutes. You may use it on anything from vehicles to motorcycles to RVs without fear of damage. So, what's the point of waiting? 
Pros
Easy to use
Contain 4 products
Great results
Budget-friendly
Cons
Not ideal for deep scratches
If you have ever had the unfortunate experience of getting a scratch on your car, you know that it can be annoying and costly to fix. But not anymore with SHINE ARMOR Revive Car Scratch Remover! These easy-to-use products will make removing scratches a breeze – and it comes in convenient bottles that are perfect for taking on the go. 
These one of the best paint correction products contain detailing grade compounds to quickly and safely remove light scratches and blemishes from your car's finish. This easy-to-apply formula combined with the all-in-one ceramic coating hydrophobic spray eliminates the need for expensive touchups and leaves a brilliant shine behind.
Besides repairing and revitalizing car scratches, the all-in-one ceramic coating hydrophobic spray offers a strong protective layer that keeps your car looking new while also protecting it from harsh elements. The ceramic car wax provides a waterless wash, coat, and shine that protects the car against UV radiation, acid rain, and other environmental hazards.
It is safe for all surfaces and contains a perfect blend of SiO2 ceramic-coating science and surfactants. This combination results in the fastest, easiest, and one of most durable scratch removal available on market today.
SHINE all-purpose interior cleaner features the latest nanotechnology. It not only cleans and revives your car's interior but also protects against future scratches and fading. It is also safe to use on delicate fabrics and upholstery.
Pros
All in one kit
Long-lasting protection
Latest Nanotechnology
Quick and safe on cars
Worth the money
Cons
Kit doesn't contain microfiber cloth
Not suitable for deep scratches
The NOVUS-PK1-8OZ-PM is a complete plastic and paint care kit that can help you keep your car looking new. The kit includes a bottle of NOVUS #1 Plastic Cleaner and Polish, a bottle of NOVUS #2 Fine Scratch Remover, a bottle of NOVUS #3 Heavy Scratch Remover, and 6 packs of a polish mate.
The unique, non-toxic formula of the products cleans and polishes plastic and car paints. It removes heavy scratches, scuffs, and blemishes, restoring luster and shine. This paint correction kit is easy to use and dries quickly, leaving a smooth surface that is free of scratches.
Novus Polish Mates are non-abrasive, so they will not damage your surfaces, and it's lint-free so you won't have any unwanted particles left behind. Whether you keep it in your glove compartment, saddlebag, or other travel bags, this paint correction kit is easy to transport.
In short, If you're looking for an easy and affordable way to remove scratches and abrasions from your plastic surfaces, give NOVUS-PK1-8OZ-PM a try. This scratch remover is designed to take care of both heavy and fine scratches, so you can restore your plastic surfaces and car paints to their former glory.
Pros
Contain 4 products
Superb results on plastics
Capable of removing heavy scratches
Ideal for both paints and plastics
Cons
Can be rough on some surfaces
Paint Rejuvenator is decent for the DIY enthusiast or professional who wants to achieve showroom results in less time. Malco Paint Rejuvenator is a unique paint restoration system that is easy to use and produces amazing results. 
This product can be used to restore gloss and luster to faded, oxidized, or otherwise damaged vehicle paint. Light scratches and imperfections can be removed using Paint Rejuvenator, giving your car a brand-new appearance.
The long-lasting and protective Carnauba wax in the formula finishes seals and protect the surface from fading, chipping, and other damage. It safely removes contaminants while restoring lost color and shine in minutes. 
Simply said, if you're looking for a product that's simple to use, choose Malco paint Rejuvenator. This product is great value for the money, making it one of the best paint correction products on the market.
Pros
Bring the shine back
Remove minor scratches
Good for sun damage
Budget-friendly
Cons
A very basic kit
Doesn't work on deep scratches
Best paint correction kit FAQs:
Is the best paint correction kit worth trying?
There is no definitive answer to this question. It depends on the quality of the kit and the level of correction you are trying to achieve. A good kit can produce excellent results, so it's definitely worth trying out a few different ones to see which one works best for you. But it's important to do your research to make sure you are getting a quality product.
All of the best paint correction kits mentioned in the blog have proven to be worth trying. You can try any of these market-leading kits.
Can we fix deep scratches with these kits?
No, you can't fix deep scratches with a paint correction kit. However, you can expect to fix minor scratches (that haven't penetrated the clear coat) using these kits. 
It is important to note that these kits are not meant to be used as a replacement for a professional paint job. Rather, they are meant to help restore the appearance of scratched or damaged paint.
What ruins my car paint?
There are around 26 substances that can ruin your car paint. We've already written a lengthy blog post about this subject. If you'd like to learn more, you may check out this link.
What are the types of car scratches?
There are 3 main types of car scratches namely:
Clearcoat scratch
Paint/color scratch
Primer scratch
Each has its own causes and ways to fix it. We've already written a lengthy blog post about this subject. If you'd like to learn more, you may check out this link.