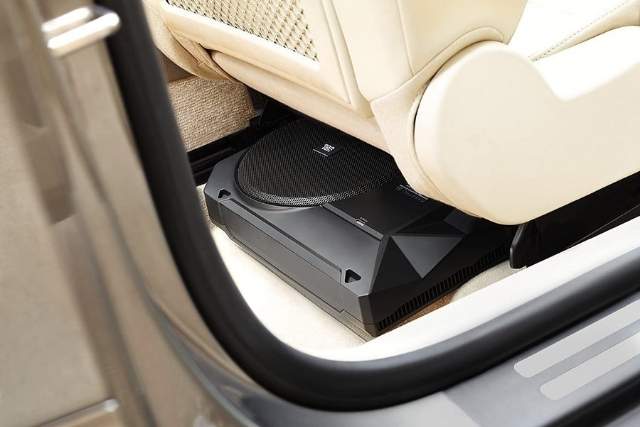 The idea of having a good subwoofer in your car is standard. But the size of the subwoofers and whether they fit or not can make a big difference to your experience. Subwoofers are usually mounted under the seat and serve to produce low frequencies. A subwoofer can help give your sound system more power and make it feel like you are at a concert in your own car!
However, buying one of the best under seat subwoofers may not be easy if you don't know what to look for. With so many out there, it can be hard to decide which one is right for you. This is because there are many factors at play and many different things to consider.
This article will explore the 10 best subwoofer under seats that you can buy in 2021. We will look at things that you need to consider before purchasing one of these subs. The different features that they come with and the sorts of things they are best used for.
But before getting right into the guide, have a look at what these small car subwoofers can do.
9 best generator for mobile detailing – 2021 ultimate buying guide
Why Underseat Subwoofers?
The underseat sub is an unusual shape of a subwoofer that amplifies the low-frequency response – the frequencies below 50Hz – of a speaker. The subwoofer sends the electrical signal to the amplifier, which boosts it. The amplifier then adds low-frequency information to the original signal, which is then sent to the speaker. The result is a louder sound with better bass.
Its capacity to dampen vibrations and produce high-quality bass sound is something no one would imagine. It's ideal for cars and compact trucks. It is fixed beneath the driver or passenger's seat. However, it's not just the location that makes these subs unique. Let's take a closer look at what makes them stand out from the crowd of top-rated under-seat subwoofers.
6 best air compressor for car detailing | detailed guide 2021
10 Best Under Seat Subwoofers You Can Buy In 2021:
This Kenwood is the perfect option when you are looking for a high-quality, high-performance subwoofer system. Whether you are just installing a subwoofer in your vehicle for the first time or have installed many in the past, the Kenwood KSC-SW11 will help you achieve your dreamt goal.
It is equipped with a 150W power amplifier and a cast aluminum enclosure. It has a compact size that measures 11 inches long, 7.5 inches wide, and 2-3/4 inches deep. You can expect a 32Hz-120Hz frequency response with an impressive maximum power rating of 150 watts.
Auto-Sensing preamp- (RCA), speaker-level inputs, Wiring harness, and mounting brackets are also included. They will prove to be an excellent companion to your car audio system. It consists of a wired remote control to fine-tune the bass levels from the driver's seat.
Compact powered subwoofers like this one may be positioned under, behind, or out of the way of passengers, making them ideal for cars with limited space.
For those who are just starting out and don't need a lot of bass, the KSC-SW11 may be the best underseat subwoofer option.
How to protect car from sun in open parking – 17 best ways
Pros
Compact underseat sub
Built-in amplifier
Peak power: 150 Watt
Wired remote control system
Front metal grill for protection
Easy to install
Affordable
Cons
The frequency range could have been better
Limited sound tuning options
Wiring kit not included
Kicker's compact 11HS8 8″ subwoofer is a good choice for a compact car stereo system with a limited amount of space to fit a subwoofer. This ultra-compact unit is designed for tight locations. Its built-in amplifier produces 150 watts (RMS, 14.4v), frequency response (25-120 Hz), and delivers bass and a deep, powerful sound that will make your music come alive.
A configurable +6dB bass boost, a phase-canceling switch, a low-pass crossover, and an automatic turn-on option are all included in this product's features. Remote bass control is included with this under-seat subwoofer, so you can adjust the bass level to suit your mood.
An impressive feature worth mentioning is its ability of a low-frequency output from a tiny closure to give you the clarity of sound, making your ride joyful.
It is easy to install with a quick-connect power plug and velcro-fastened nylon straps making the installation secure and easy to remove. 
In short, if you want the most out of a box without thinking about the cost, then the kicker's compact 11HS8 is the best underseat subwoofer for you.
8 Best car cooler for road trips with family | 2021 guide
Pros
Excellent performance
Various fine-tuning options
Automatic turn-on option
Built-in 150 Watt amplifier
Compact and universal fit
Secure installation
Cons
Expensive
Smaller cone
Various reports of rattling noise at high volume
Has no RCA inputs
Great sound begins with power, and this subwoofer under seats will make your subs sing! Rockville RW10CA will provide you with the energy you need to get the most out of your music.
Rockville RW10CA is a 10 Inch Slim Subwoofer with a Peak Power Output of 800 Watts and an RMS Power Output of 200 Watts while producing crisp and clear bass.  RW10CA has a PWM MOSFET Power Supply with Low-Level RCA Input, and High-Level Inputs with Auto Turn-On Technology.
The unit also features exceptional safety features, including thermal, short, and overload protection circuits. In case of any mishap, the circuit will prevent the subwoofer from burning by burning itself.
Its built-in subsonic filter takes care of its frequency which ranges from 20Hz-150Hz. Additionally, you get adjustable input sensitivity, soft delayed remote turn-on, phase switch ( 0° or 180°), 2 Ohm impedance, subwoofer level remote control, and low pass filter (50hz-150Hz). 
With a bass boost of 0-18dB @ 45Hz, this unit can produce a more robust and deep bass with no sound distortion. With various audio customization options, you can now change the bass according to your mood. 
In-short. If you want a compact subwoofer, packed with full features then this particular unit is the best compact powered subwoofer for you.
Pros
800W max power with 200W RMS
Easy to install
Automatic turn on/off
10-inch cone 
Deep bass
Thermal, short, and overload protection circuit
Adjustable input sensitivity
Audio customization options
Cons
Built quality could be better
Needs to be installed correctly for the best sound quality
It may overheat. 
Alpine's PWE-S8-powered subwoofer is built with ruggedness in mind. The Alpine PWE-S8 is a powerful 8-inch car subwoofer with a built-in amplifier and houses a cast aluminum enclosure built to handle a rough ride.
This easy-to-install powered subwoofer is compact (measure just 13.5″ L x 9″ W x 3″ D), stylish, and has all the right stuff to deliver you accurate, powerful bass. You can install the PWE-S8 under or behind a seat in minutes.
With a frequency range of 32Hz-150 Hz, the PWE-S8 is designed to fill the sound stage with big bass from a small footprint. The high-efficiency subwoofer has a built-in amplifier and has a power rating of 120 watts RMS with a 240 watts peak power. 
Other features include variable phase control, manual phase switch, wired remote sub-level, and wired remote level, built-in low-pass crossover, and auto-sensing speaker level inputs. The PWE-S8 is pre-loaded with a set of tuning controls to enable you to customize your sound just the way you want.
All in all, If you want a subwoofer good enough to make you feel like a dance, then this is the best underseat subwoofer for you. 
Pros
Impressive sound quality
120 Watts RMS
240 Watts peak power
Compact and easy to install
Durably constructed
Built-in amplifier
Various sound customization options
Cons
Expensive 
Not suitable for large vehicles
Rockville RockGhost Active Powered 8″ Hidden Car Subwoofer – Fits Inside Spare Tire. Connect this one of the best under seat Subwoofers to your car's sound system for tremendous bass. This subwoofer has incredible power but tiny dimensions (14.17″ diameter x 5.7″ height), so you will never know it's there.
An integrated PMW MOSFET power supply amplifier offers 800 watts of peak power and 200 watts RMS output in this Rockville Active Powered 8″ Subwoofer.
Featuring Phase switch (0° or 180°), Frequency response (20 Hz – 250 Hz), 20Hz Subsonic filter, Low Pass Filter (50Hz – 150Hz), and Bass boost ( 0 – 12dB @ 45Hz), this unit provides crisp, clear sound without any unwanted noises and vibrations.
The best compact powered subwoofer has a variety of control and tuning choices, including auto turn-on and turn-off features for an ultimate music experience. In the event of a problem with the subwoofer, characteristics like heat protection circuit, Overload protection circuit, and Short protection circuit ensure that it can handle it.
Additionally, you get Low-level RCA inputs, high-level input, Adjustable Input Sensitivity, Reverse mounting design, a Wired 20-foot dash remote with adjustable gain, phase control, 10 gauge power wire, and many more.
No matter how long the underseat subwoofer is running at maximum power, the cast aluminum enclosure of this simple-to-install unit keeps it from overheating.
In short, this feature's packed subwoofer is undoubtedly the best compact powered subwoofer worth your money. 
Pros
Compact and easy to install
800 Watts peak output
200 Watts RMS output
Safety features
Features packed
Various tuning options
Worth the money
Cast aluminum casing
Cons
Bass at higher volume could have been better
The Cerwin-Vega VPAS10 subwoofers are designed for maximum thump at maximum volume, ideal for rocking out to Journey. This 10-inch subwoofer with a peak power of 550 watts and 200 watts RMS is the ultimate addition to your stereo system. This one of the best compact powered subwoofers can produce impressive, accurate bass.
With a thermal protection circuit, PWM MOSFET power supply, and RCA and high-level inputs, this subwoofer will last a long time. Using the remote control, you may adjust the volume of your speakers without leaving your seat.
With a variable low-pass filter, you can fine-tune the bass in your music to your heart's desire. The phase of your bass may be changed to 0 or 180 degrees with this subwoofer. Additionally, a 35Hz subsonic filter and a 25A fuse are included with these underseat subs.
This subwoofer is built with a variable bass boost which gives you the option to boost the bass to your preferred level, so you can crank up the volume and feel the beat in your chest.
In short, this one of the best under seat subwoofers accommodates your style and provides transparent, detailed, and accurate acoustic sound reproduction. This subwoofer is perfect for bass enthusiasts who like to "feel the bass" in their car when you are on the road.
Pros
Peak 500 Watts & RMS 200 Watts
Compact and easy to install
2 Ohm Impedance
Dimensions: 13.60″ L x 9.60″ W x 2.60″ H
Thermal protection
Adjustable low pass filter
Cons
The lowest range is only 35Hz
Needs tuning for better sound quality
Could be cheaper
Sound Storm Laboratories LOPRO8 is among the best under seat subwoofers in the business. It's time for you to move out of the Stone Age and get the power and performance you deserve from your vehicle's sound system. With 600 Watts max power this 8-inch woofer delivers the lowest distortion and highest power handling in its class, producing a full-range sound that is sure to amaze you. 
The LOPRO8 has a MOSFET power supply, which results in a lower gate-to-drain feedback capacitance, and a lower thermal impedance for higher switching frequencies, which increases sound quality and power output while reducing distortion and improving efficiency. 
High and low-level inputs allow this unit to work with practically any car audio on the market. Overload and short circuit protection keep the subwoofer safe even after long periods of use.
Equipped with a low-pass filter for improved performance to keep high notes out of your subwoofer and included with the higher speakers level inputs as well as low RCA inputs to make it connect with multiple amplifiers and works even with the older stereo sets.
Using the remote control, now you can boost your bass as per your mood. The subsonic filter helps prevent distortions even at high volume. Measuring 13.7 x 9.8 x  2.8 inches, these small car subwoofers can be installed easily under any car seat without compromising on power and performance. 
To conclude, The LOPRO8 is a serious 8-inch woofer that will make a real difference in your ride. The Sound Storm Laboratories LOPRO Woofer is positioned to give you a serious bass sound. It's a product that's a big value for a small price.
Pros
600 Watts max power
3-way protection
Remote subwoofer control
MOSFET power supply
Low pass and subsonic filter
Variable input controls
Cons
Not the loudest subwoofer
Lacks venting ports
The JBL BassPro SL patented driver design provides a unique combination of power, clarity, and bass unlike anything else in its class. Its shallow profile delivers impressive bass from a small cabinet, making it a great choice for applications where space is a premium.
With a peak output of 250 watts and 125 watts of continuous power, the JBL Bass Pro SL is a formidable subwoofer that delivers the power and attitude bass fishermen need to take bass fishing to the next level. 
The JBL Bass Pro SL's power ratings are conservatively rated as the subwoofer delivers more bass per watt than other competitive models. The manual crossover control lets you fine-tune the upper and mid-bass sound production of your choice. 
Even in the most demanding environments, the BassPro SL's heat protection ensures uninterrupted operation, and the system's overload and speaker short protection circuitry ensure that it is always protected.
The underseat sub has a large diameter profiled shape and a paper cone. The paper cone provides increased stiffness and damping for accurate bass response. The high-level inputs with Auto-on and Auto-Mute features make installation a snap.
A wired bass remote controller allows adjusting the bass with ease. The soft-start turn-on prevents turning on a "hot" amplifier and damaging the subwoofer and other components.
To Conclude, the JBL BassPro SL is an ideal complement for your stereo system. The system is easy to install for beginners and connects to a variety of amplifiers making it one of the best under seat subwoofers. 
Pros
Cool Design
Support Various tuning for audio tuning
Strong and premium construction
Wired Bass remote controller
3-way protection
Cons
Expensive in this class
Bass could have been better
Rockford Fosgate's Punch P300-12 is a part of the Punch P3 family of shallow mount subwoofers. The P300-12 car subwoofer amplifier includes a self-contained, all-in-one solution for high-quality bass and its all-in-one design does not require an additional enclosure, which saves installation time, and makes the Punch P300-12 subwoofer quick and easy to "punch" into a vehicle. 
It is tuned to deliver the best possible sound from a small car subwoofer system. This underseat sub features a 300 Watt amplifier and an adjustable 12dB low-pass filter with a variable electronic crossover. This allows the subwoofer's output to be blended with the vehicle's factory radio. 
The amp also has a built-in 0°/180° phase switch for proper phase alignment of your subwoofer system.
The system's bass level remote control allows you to easily set the subwoofer's volume level from the front of the vehicle. Simply connect the RCA cables to your head unit's subwoofer output, wire up the RCAs to the Punch P3 subwoofer, adjust the bass and you are ready to jam.
This 12″ subwoofer can be used as a separate subwoofer for a full-range system, as a replacement for a factory subwoofer, or as a component subwoofer in a component system.
In Short, the Punch P300-12 Self-Powered Subwoofer from Rockford Fosgate is an ideal addition among the best under seat subwoofers to high-performance factory or aftermarket speakers.
Pros
300 Watt Amplifier
Powerful Bass and clear sound quality
Thermal and over/under voltage protection
adjustable 12dB low-pass filter
Optimum Performance
Overvoltage protection
Remote bass level control included
Cons
Expensive product
Might be difficult to install in small cars
Weighs 29.6 pounds
If your favorite thing to do is listen to your favorite soundtracks while driving around town, get ready to take your fun to a whole new level. Pioneer's TS-SWX2502 10-inch shallow-mount subwoofer gives you the big bass you've always craved in a small package that can fit snugly in your vehicle—even if you don't have a lot of room. 
This Pioneer TS-SWX2502 10-Inch subwoofer under seats covers a frequency range of 20 Hz to 200 Hz and is equipped with Music power is rated at 400 watts and 1200 watts peak. The sensitivity is rated at 93 dB and impedance of a single 4Ω.
This subwoofer is also super easy to install. With the dimensions of (55.9 x 40.6 x 22.9 cm), this subwoofer can be installed behind the seat of most vehicles with no problem. 
In short, this 10-inch shallow compact bass subwoofer was designed to fit into the smallest of spaces while maintaining the ability to deliver earth-shattering bass. Keeping the price in mind, this can be one of the best under seat subwoofers. 
Pros
Scratch-resistant surface
Improved frequency range
Easy to install
Superb Bass quality
Oversized cone structure
Cons
Doesn't contain a built-in amplifier
The volume could be higher
Doesn't have a protective grill
Advantages and Disadvantages Of The Best Under Seat Subwoofers:
Mixing the right tunes is a valuable part of the car experience. It's a valuable part of a valuable experience. Subwoofers can be a valuable asset to your vehicle. While they have their fair share of advantages, they have a few disadvantages. Have a look at the advantages and disadvantages of the small car subwoofers:
Advantages:
Under seat subwoofers are a great, affordable solution to achieve amplified bass in your car. They offer the maxed-out bass that's low enough to rumble your seat, but they don't compromise on sound quality. They are stylish, easy to put in, and less expensive than traditional large subwoofers. They often have the high-performance features of more expensive models. 
For those who are looking to enhance and improve their car audio, here are some of the benefits of  small car subwoofers:
Portable
Improved sound quality
Improved sound range and experience for passengers
Lightweight and compact
Easier to be moved
Disadvantages:
Some things are not so great about them. The sound is not as good nor are the power ratings as large as traditional subwoofers. Small car subwoofers can be expensive. But they are still a great option for someone who is on a budget.
Disadvantages:
More time and effort will be needed for the installation
It may not fit well into all cars
It may require customizing to personal tastes
Not the best sound quality
Low power handling capabilities
Now that you know the pros and cons of small car subwoofers, you can make a better decision on whether or not this is the right choice for you! Remember, you can always check out other informative articles on our site to learn more about different topics.
Best Under Seat Subwoofers Buying Guide (Important Factors to Consider):
Now that we have discussed the 10 best under seat subwoofers with pros and cons, and advantages and disadvantages of small car subwoofers, there are a few important factors you need to consider before you make the ultimate choice. Let's have a look at them:
Size:
Subwoofer size is an important consideration because it determines whether or not you can put one under the seat. Be sure to measure the space under your seat before making a purchase. Small car subwoofers typically come in the following sizes:
8-inch Subwoofers: This is the smallest car stereo you can get and it still has all the great features you need for great music. Without sacrificing clarity, they can provide deep bass. If you're searching for a subwoofer that's not going to blow your socks off, these tiny subs are a great option.
10-inch Subwoofers: If you're looking for subwoofers that can fit beneath your seat, this is the one to choose. In terms of bass and clarity, these subwoofers prove to be the best compliment to any sound system. These subwoofers are a great replacement for 8-inch subwoofers, as they are compact and easy to install, while still delivering high-quality sound.
Power Rating:
When shopping for a new subwoofer, it's critical to consider the subwoofer's power rating. RMS and Peak are the two power figures. There are several reasons why each is significant. It varies from model to model in terms of the subwoofer's power. Choosing the right speaker for your system is easier if you know its RMS and peak power. Let's take a closer look at them both.
RMS (root mean square): RMS tells us about the amount of power a subwoofer can handle continuously without causing sound distortions. If you use the subwoofer within the prescribed RMS rating, you will get exceptional results. Otherwise, you may end up damaging the subwoofer. 
Peak power: Peak power tells us about the maximum power small car subwoofers can handle in a short time. 
If you are using an external amplifier, make sure that the power rating is compatible with the amplifier otherwise you may damage the subwoofer permanently. 
Sensitivity:
Sensitivity refers to how much energy the subwoofer needs to move the cone and produce sound. The higher the sensitivity the less energy it will require to produce sound. 
Such a subwoofer is more power-efficient and has a long life due to less heat production over time. 
Frequency Response:
Human hearing ranges from 20-20k Hz and our ears can detect bass sounds around these frequencies. That's why subwoofers are designed to produce audible vibrations around 20Hz or more. 
Frequency response is vital to consider while selecting the small car subwoofers. Ideally, around 100 Hz or less subwoofer produces better sound and works efficiently.
Higher frequencies tend to create distortion, hence low is better. 
Passive vs Active Subwoofers:
The only difference between both is that one has a built-in amplifier whereas the other doesn't have a built-in amplifier. 
The active subwoofer comes with a built-in amplifier. In contrast, a passive subwoofer doesn't come with a built-in amplifier. 
For small cars, active subwoofers are a better choice because they save space and need very few wireworks. 
Whereas, Passive subwoofers need an external subwoofer which consumes more space. But with passive subwoofers, you get the option to install a powerful amplifier to get a next-level sound experience. 
Ease of Installation:
The best under seat subwoofers are manufactured keeping portability and compactness in mind. The subwoofer you have decided to purchase needs to be compact and easy to install without the help of an expert.
Conclusion:
The underseat subwoofer is one of the most important parts of the car which is likely to impress you when it comes to the high-quality sound system. All of the mentioned models have a great sound, and they are easy to install. You will be able to install any of the models in less than 30 minutes. The bottom line is that the small car subwoofers we've shown you are all great subs, and you'll be happy with any of them.
In the end, it is most important that you think about what you need from a subwoofer before you go out and buy one. If you're putting it in a small space, you may not need a lot of power. If you want a lot of bass, you may want a subwoofer that puts out a lot of power.
Remember, there are a lot of factors that go into what makes a subwoofer great for your car. Do your research, read reviews, and consider what sound you are looking for. You can also comment on any query you have. We are always happy to help our readers find the best products for them!
Thank you for reading our detailed guide on the 10 best under seat subwoofers you can buy in 2021.
If you have any feedback, feel free to share it with us in the comments section.
If you want to learn more about something, tell us in the comments section and we will bring it to you.
Thank You.