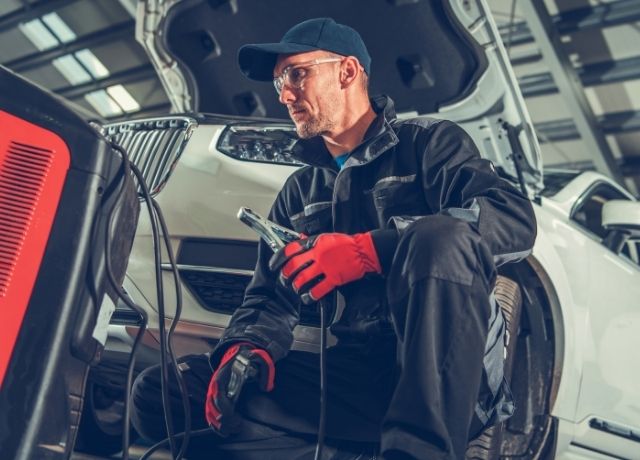 When your car battery fails, it is time to worry. You might be stuck without any source of energy. Fortunately, you can still get the job done if you have the right tools and skills. When your car battery dies, you have to rely on a portable jump starter and air compressor. 
A jump starter with air compressor is an important tool that can help you in a variety of emergencies. If your car battery dies, you can use the jump starter to get it going again. If you have a flat tire, the air compressor can help you fill it up.
These jump starter packs can be used to power small electronics as well. These versatile devices are easy to use and can be carried conveniently in the trunk of your car.
There are many portable jump starters and air compressors on the market. Which one is the best for you? We've compiled a list of the 8 best portable jump starters and air compressors, to help you make a decision.
How To Protect Car From Sun In Open Parking – 17 Best Ways Flawless Car Guide
Best Portable Jump Starter And Air Compressor (8 Best Picks):
Best Battery Charger And Air Compressor Combo
9 Best Generator For Mobile Detailing (Reviews and Buyers Guide)
Jump-N-Carry jump starter air compressor is a great option when you need to jump-start a car battery, and they're also a popular choice among professional mechanics.
They're ideal for situations, where you might need to jump-start your car in the middle of nowhere.
We were pleasantly surprised at how quiet and powerful this portable power station is. There's no rumbling or rattling, and the heavy-duty construction ensures that the unit will stand up to whatever you throw at it.
The Clore PROformer battery technology inside this best jump starter allows for a maximum of 1700 peak amps and 425 cranking amps. The rubberized bottom ensures stability, and the integrated voltmeter shows the battery life remaining.
There is now a power indicator on your jump starter so you know how much juice is left. The protection against overcharging the power pack is an added bonus.
For even more protection, the power pack also includes AWG welding jumper cables and PowerJaw heavy-duty clamps.
The built-in air compressor is a plus, so you won't have to worry about carrying around an extra piece. The air hose is 12 ft. long, and 120 PSI of pressure ensures inflating anything thrown toward it.
In short, It is small in size but it has enough power to jump-start almost all gas engines and diesel engines. So if you're in the market for a high-quality, reliable car battery jump starter with air compressor, then the Clore Automotive JNCAIR 1700 is the one for you.
Pros
1700 Peak Amps, 425 cramping Amps
Extra-long coiled air hose for greater reach and mobility
Lead-acid battery
12 volts power outlet
Built-in automatic charger, voltmeter
Voltmeter, which shows the battery status
120 PSI Air compressor
Cons
People find 28.5 pounds a bit heavy
An expensive product
The cable is not detachable
The Schumacher SJ1332 is an extremely compact and powerful portable power station that may be used for a wide variety of purposes.
It can be used as a jump starter, an air compressor, and a source of power. A fair price for everything you get here.
SJ1332 is also one of the best portable jump starter with air compressors for car owners that run an 8.0L gasoline engine or 6.0L diesel engine.
This car battery booster comes with a built-in AGM battery that delivers 1200 peak amps of cranking power. It takes only a few minutes to fully inflate a set of tires using the automated 150 PSI built-in air compressor.
The battery can be charged in 7 to 8 hours, and it can also be charged via the conveniently placed USB slot, making it a convenient option for recharging your device.
In addition, it has powerful emergency light that may be used for both nighttime illumination and emergency situations on the side of the road.
Additionally, this portable power station will be protected from damage caused by a reverse connection thanks to the reverse hook-up safety feature.
In short, the Schumacher SJ1332 is more than just a jump starter. Providing additional features, this product is a good choice at this price to jump-start large engines.
Pros
1200 peak Amps
Two 120 V AC outlets with a USB port
150 PSI air compressor
Works with V8 engines
LED Display and bright LED lights
Cons
Safety features could be much better
It can't be plugged in while charging a car battery
If you're planning to travel a lot, you can't go wrong with the DEWALT DXAEJ14 Digital Portable power station. This power pack is compact and lightweight, so it won't weigh you down while you're out on the road.
There is no job too big or too small for this tool since it has peak amp hours of 1400 and instant amp hours of 700. The innovative Alternator Check feature ensures that your device is always operational, allowing you to get the work done fast and effectively.
Quickly inflate tires, rafts, air mattresses, or other sports gear with the help of the excellent air pressure of this air compressor i.e. 120 PSI. The best additional features include a conveniently placed USB slot providing 3.1A (each).
The bright emergency light will illuminate your workspace, and the polarity alarm will prevent any damage to your electronics.
Finally, a portable jump starter air compressor can handle the toughest chores, thanks to its metal powder-coated clamps. You know you're buying a good product since, unlike most models, the manufacturer backs it up with a limited warranty that covers you for a full year.
Pros
1400 peak/ 700 instant Amps
Alternator check feature
Reverse Polarity Alarm
120 PSI Air compressor with auto-stop function
Dual 3.1A USB ports
High-powered LED light
Cons
Extension and charger cord are not included with the product.
Heavy and bulky product
No 120V output
DieHard 71687, is the best low-capacity battery jump starter with air compressor with all the features to jump-start your car. Its 950 peak amps provide enough power to quickly revive even the most drained battery, while the large capacity ensures that you'll never be caught without a charge.
The DieHard 71687 is a great tool for the home garage or workshop. A sealed lead-acid battery ensures consistent performance and a lengthy lifespan. Stay in charge at all times with the help of the LCD display that shows you the exact charging percentage and battery life left.
This model's ability to produce up to 150 PSI of air pressure makes it ideal for industrial applications. Additionally, it has multiple power ports of 12V DC for recharging or powering your equipment.
The provided 24-inch cables are sufficient for connecting multiple vehicles, and the unit's portability is enhanced with a convenient carrying handle. The built-in flashlight is also useful for nighttime operations.
The fact that it can be folded up and stored away easily makes it ideal for outdoor excursions like camping.
Pros
Affordable product
Sealed, lead-acid battery
950 peak Amps
150 PSI air pressure
Multiple power ports of 12V DC
Cons
The battery needs to be recharged more frequently
Not the most durable product
One of the best portable jump starters and air compressors from famous tire manufacturer Michelin. The MICHELIN ML0728 is a great value-for-money jump starter that's enough power to jump-start a car in all conditions.
The ML0728 can deliver up to 1,000 amperes and 300 cranking amperes, respectively. When you're on the go, yet don't want to lose power to your devices, this handy gadget is the way to go.
The 2.1A USB port guarantees that all of your devices will stay charged, and the built-in power inverter allows for usage with any 12V vehicle outlet.
The built-in 260 PSI air compressor allows you to inflate your tires on a car or motorcycle and is perfect for any vehicle. Additionally, you can use the speakers to listen to songs stored on your phone.
For further protection, the case of this portable jump starter with air compressor is made of high-impact polycarbonate that is resistant to breakage and abrasion.
The LED lights allow you to operate even when the sun has set, and the emergency lights ensure that you can be seen in a crisis.
Pros
Built-in power inverter
Power Inverter
260 PSI air compressor
Bluetooth speaker
2.1A USB port
LED light
Durable Case
Cons
Speaker is not very loud
An expensive product
Best Mid-Range Capacity portable battery booster
Another on the list, there's the Wagan EL7561 Power Dome PLEX, a great energy source that provides 300 cranking amps and a 1,000 peak amps battery that is perfect for your cranking power needs.
With 14 Ah of sealed lead-acid battery, this power pack can provide you with the necessary cranking power to start your car or truck in any situation.
This innovative battery booster not only safeguards your electronics from sparks and reverse polarity but also provides a space-saving charging dock for your mobile devices. As it is lightweight and small in size, it can be easily packed away and carried along on any journey.
The maximum pressure of this compressor is 260 PSI, thus it can handle any inflating job. While you're filling up your tires, you may listen to the AM/FM radio that comes included on this unit. As an added bonus, the built-in LEDs offer enough illumination for nighttime tasks.
The plex power pack contains two 400-watt AC outlets and an 800-watt burst of 110-volt power. Also, the 12V DC socket can power a wide variety of electronic gadgets.
In addition to powering your mobile devices, the USB port allows you to juice up your laptops, tablets, and other portable electronics while on the road.
When it comes to portable jump starters and air compressors, the EL7561 is without a doubt the greatest option.
Pros
1000 peak Amps and 300 cranking Amps
Anti-sparking and reverse polarity protection
260 PSI air compressor
Two AC outlets and a 12 V DC outlet
Two USB Ports
Built-in radio and LED
Cons
Doesn't has space to hold charging cords
Expensive product
Don't let a dead battery be the cause of another emergency. Because now you have the best 4-in-1 jump starter with air compressor.
The STANLEY J5C09 is an ideal portable power station for both unexpected situations and routine maintenance. Providing up to 1000 peak amps and 500 instant starting amps, this gadget has more than enough juice to jumpstart any vehicle.
This battery booster weighs next to nothing and is extremely portable. This portable air compressor and jump starter are completely risk-free to use.
An alarm will sound if you connect the jumper cables backward, and the all-metal, powder-coated clamps will prevent any slipping or fraying.
In addition to charging your car's battery, it features a 120 PSI air compressor for rapid tire inflation and a high-powered LED light that can be rotated 270 degrees to give the right amount of light in any direction.
This multiple power ports compact power pack helps you charge your electronic devices in cases of power outages.
Unlike most manufacturers, the manufacturer provides a warranty for a full year, safeguarding your investment in this power pack.
Pros
USB port to charge devices
All metal powder-coated clamps
1-year manufacturer warranty
Superb safety Features
Suitable for large Vehicles
Cons
Air Compressor is noisy
Needs to be recharged every 30 days
Best Alternate Low Capacity
If you're seeking a car jump starter with air compressor that can easily jump-start your car, the Kinverch Portable Car Jump Starting may be one of your finest selections.
This high-output 900-Peak-Ampere starter can supply up to 450-Amperes at the Spark Plug to get your engine revving quickly.
Simply inflate a tire with the device's built-in 150PSI air compressor or use this power pack to power other small appliances.
The 12-volt power outlet socket and 2-ampere-current (Amp) USB connector on the portable jump starter make it ideal for charging electronic gadgets while on the go.
Any car owner would benefit greatly from using a Kinverch battery jump starter. In addition to giving you peace of mind by showing you the charge level of the battery, they also have a bright LED light to assist you to see in dark places.
Designed to withstand the toughest conditions, it comes with rugged housing and sturdy internals.
It's portable, lightweight, and easy to store anywhere you like.
Pros
Can jump start almost any vehicle
Powerful Air Compressor
Comes equipped with Dual Charging Adapters
High-powered LED Light
Cons
No Digital Display
Battery Life is Short
Not the best option for Big Vehicles
Things To Know Before Buying The Battery Booster:
Amps:
This is especially crucial if you plan on using the jump starter for its intended function, which is to jumpstart a car. If your car has a very powerful engine, you may need a significantly higher amp to jump-start it.
On a chilly morning, a large V8 engine or diesel engine may need as much as 600 amperes of current to be jump-started. Even larger vehicles, such as trucks or RVs, may need as much as 1500 amps to jump-start the engine.
Alternatively, a regular car can be jump-started with only 400 amps.
The good news is that even large V8 gas engines or diesel engines can be jump-started using any of the best jump box with air compressor.
PSI Rating:
The recommended jump starter power pack comes with an air compressor so you need to understand what a PSI rating means.
The PSI rating shows the time taken by the air compressor to inflate the tire. In simple terms, a device with a higher rating takes less time to inflate the tire. 
Size:
If a product is too bulky to be carried around easily, no one would want to buy it. In order to transport the item, you will have to forego some of your usual in-car conveniences. Size should be one of your primary considerations when shopping for a car jump starter with an air compressor.
We only suggest a lightweight power station that won't take up too much room in your trunk. These are the three most important factors, and you should think about them carefully before making a final choice advisable.
FAQ (Best Battery Charger And Air Compressor Combo):
Is the Best Jump Box With Air Compressor Worth It?
Portable battery booster jump starters can be very helpful, especially if you are stranded in a remote location. They can be a lifesaver if you have a dead battery and no one around to help jump-start your car.  
Likewise, using the powerful air compressor you can inflate your leaky tires or a flat tire within a few minutes and you will be good to go once again.
However, with so many options in the market, it is very difficult to find the perfect portable power station to meet your needs. Make sure to do your proper research and buy a power pack that fulfills most of your needs.
Does The Best Battery Charger And Air Compressor Combo Work?
Yes, a portable jump starter with air compressor work. They are battery-operated devices that can be used to start a car if the battery is dead.
Are Portable Car Jump Starters Safe?
Yes, a portable car jump starter with air compressor is safe to use. However, you should always read the instructions carefully before using one. Make sure to connect the positive and negative clamps in the correct order. Also, be careful not to touch the clamps together while they're still connected to the battery, as this could cause a spark.
Rest if you follow the instructions, the portable power pack is totally safe to use even while you are traveling.
Can You Run An Air Compressor On A Car Battery?
You can run an air compressor on a car battery, but it will drain the battery quickly. It's best to invest in a portable jump starter with air compressor.
Conclusion:
In conclusion, a portable jump starter and air compressor are a must-have for any car owner. It can be used to jump-start a car battery in the event of a dead battery or to inflate a car tire if it goes flat. The best part is that these devices are small and lightweight, so they can be easily transported from one vehicle to another.
By having this portable jump starter equipment, you can be prepared for any situation that may arise while on the road. Plus, they are not very expensive, making them a great value for the money.
I highly recommend investing in the best lithium battery jump starter with air compressor, especially if you have a car.