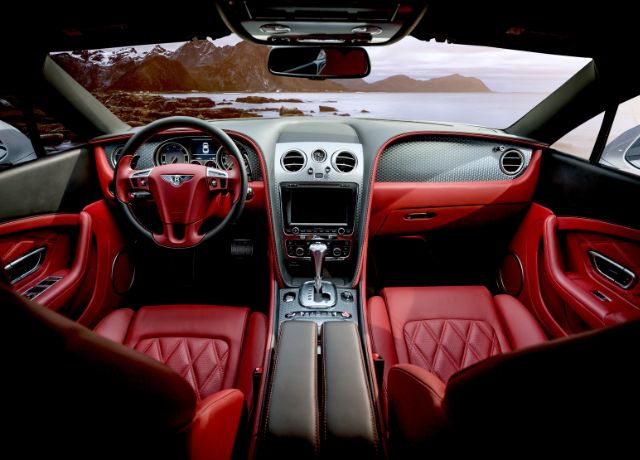 Red car interiors have been popular for a number of years because they add a touch of class and elegance to any car. Red interiors are loved by car lovers because they manage to provide the impression of both sportiness and luxury.
Here we'll take a deeper look at 18 of the best cars with red interiors, ranging from economical to luxurious. Whether you're in the market for a new automobile or just want to check out some cool rides, you'll be impressed by the cars on this list.
Therefore, without further ado, let's dive into the world of cars with red seats and find the greatest possibilities currently on the market.
18 Best Cars With Red Interiors:
Not only can cars with red interiors stand out on the road, but they also have an air of refinement about them. Here are the best options to consider if you want a car red interior.
Cars With Red Interior: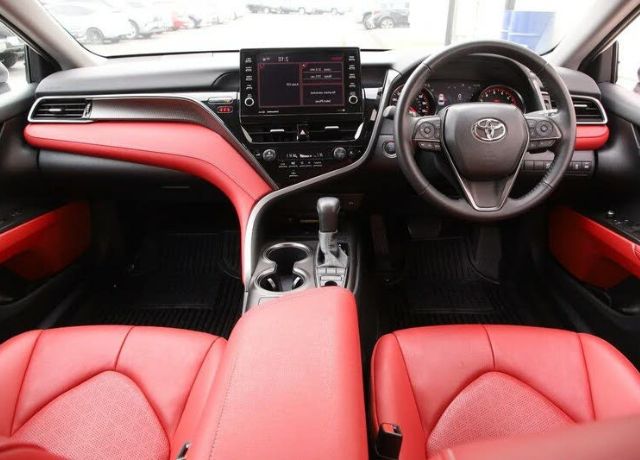 Toyota Camry:
If you need a solid, all-around sedan, look no further than the Toyota Camry. The Camry is already a noticeable vehicle, but with the addition of a car red interior, it becomes a choice for people who want to create an impression when driving.
The Camry XSE, which starts at $31,000, is available with a gorgeous red leather interior. The red leather seats give the otherwise neutral interior a fashionable and contemporary appearance.
The hybrid powertrain gives this automobile impressive fuel economy (27/38 mpg). The Camry also has a large luggage and passenger compartment, making it an excellent option for those who regularly transport bulky items or who just need more space.
Safety features like Lane Departure Warnings and Driver Attention Alerts are also included. The TRD trim only has a black interior, but the Camry XSE is a beautiful car with a red leather interior that will make people look twice.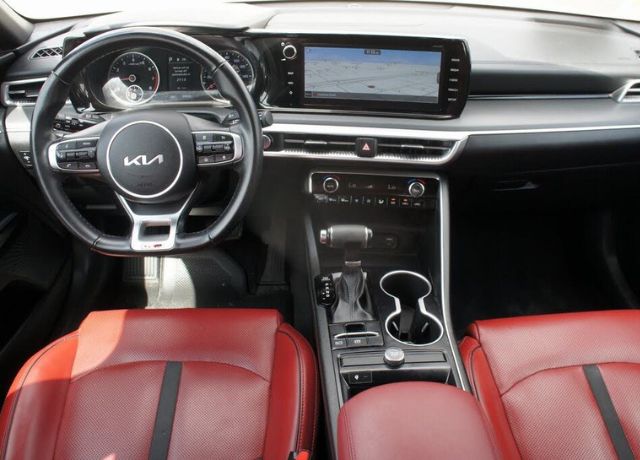 Kia K5:
The Kia K5 GT-Line has a red interior, unique to this trim only. The GT-black Line's console and steering wheel are complemented by vegan leather seats and soft-touch areas.
This cheap car starts at $26,000 and boasts a turbocharged 1.4-liter four-cylinder engine that gets 27 mpg in the city and 37 mpg on the highway. If you're looking to cut down on petrol costs, this model is your best bet.
It's a great compromise between practicality and luxury, thanks to its optional four-wheel drive and remote engine start. In addition, the GT-Line package includes high-end amenities like heated seats, dual-zone climate control, and keyless entry with a push-button start.
If you're looking for a car with a red interior, The K5 is a good choice because it's fashionable, spacious, and economical.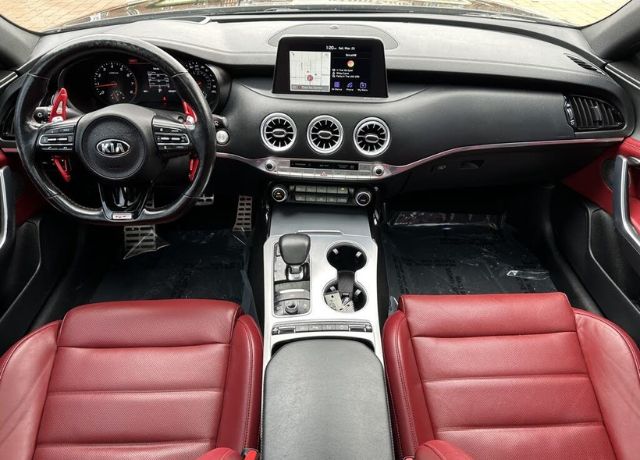 Kia Stinger:
The Kia Stinger GT-2 is a high-performance vehicle available with a black and red interior car. The seats and door inserts are red while the dashboard is black. The red is more of a subtle cherry and goes well with cool tones like grey and blue.
The car has a V6 engine with two turbochargers, all-wheel drive (AWD), and Napa red leather seats. This model offers more capacity for passengers and freight. With 17/25 MPG in the city/highway, it is not as fuel-efficient as other choices.
With a red cabin, the price jumps to $53,190, plus an extra $2,200 for all-wheel drive. The red interior is also available on the Stinger GT.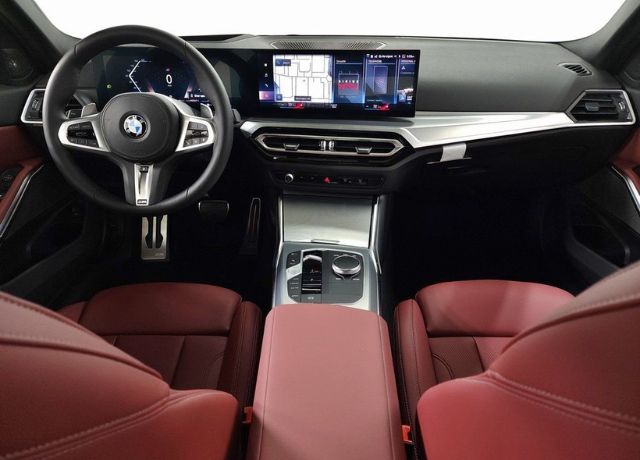 BMW 330i:
The BMW 330i is your best bet if you're in the market for a red interior luxury car. The Extended Fiona Red leather interior of this car is one of the most eye-catching in the BMW 3 Series lineup.
Its soft Merino leather covers the doors and major sections of the dashboard, making for a red leather feast. In addition, any BMW model number 3 can be outfitted with either Tacora Red perforated leather or Tacora red leather with contrast stitching.
The BMW 3 Series is equipped with a number of high-tech features including a 2.0-liter turbocharged four-cylinder engine that produces 255 hp as standard. We recommend the $44,000 BMW 330i if you're looking for a luxurious car with a splash of color.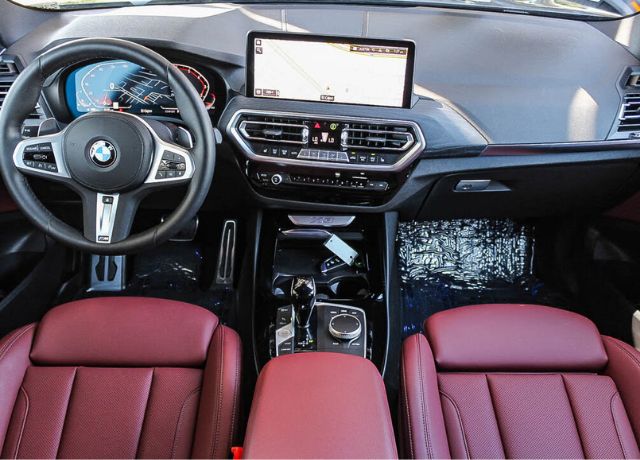 BMW X3:
The BMW X3 isn't your average crossover, and it's even more exceptional when outfitted with the optional Tacora Red Perforated inside. The X3 has a high-end sports car atmosphere thanks to the leather seats, which are both comfortable and elegant.
The high-tech features, such as the user-friendly infotainment system, climate control, and abundant storage, will blow your mind. The panoramic sunroof is a nice touch, enabling natural light to flood the interior while enjoying breathtaking views.
The X3 is enjoyable to drive both with its standard turbocharged 4-cylinder engine and with the X3 M40i's more robust turbocharged straight-six. BMW X3, an SUV with red seats, is an excellent choice if you want a distinctive and eye-catching car.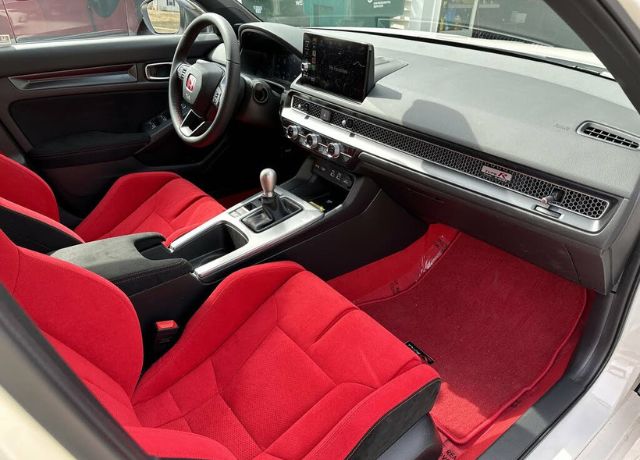 Honda Civic Type R:
The Honda Civic Type R is a hot hatch that packs a serious punch. It looks like a family sedan, but its turbocharged 2.0-liter four-cylinder engine gives it the performance of a sports car. 
And if you really want to make an impression when you're behind the wheel, go with the eye-catching car red interior.
The sporty interior gets a splash of color from the red seats, door cards, carpeting, and seatbelts. The athletic vibe is complemented by the race-inspired seats' fabric upholstery.
The red accents on the dashboard and console complete the stylish look. It's a great way to get attention while traveling and won't break the bank in the process.
The Honda Civic Type R with red upholstery is a great choice if you want a sporty car with a daring demeanor.
Luxury Cars With A Red Interior: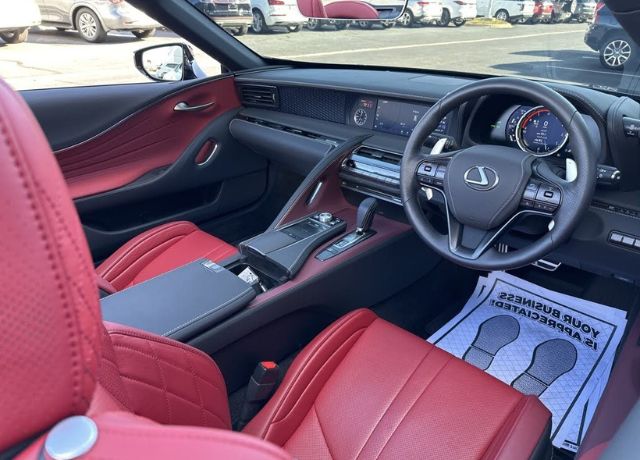 Lexus LC 500:
Buckle up, because the Lexus LC 500 with a red interior is a sight to behold. This vehicle conveys elegance, class, and sophistication. Although the car's Circuit Red leather and Satin Metallic trim might be too flashy for some, it's ideal for those who enjoy drawing attention to themselves.
The interior is thoughtfully designed to ensure your every comfort, from the top-grain leather seats to the carbon fiber and brushed aluminum of the dashboard. Moreover, the 5.0-liter V8 engine under the hood produces a lot of power.
The red interior of the Lexus LC 500 is a stunning addition to an already eye-catching vehicle.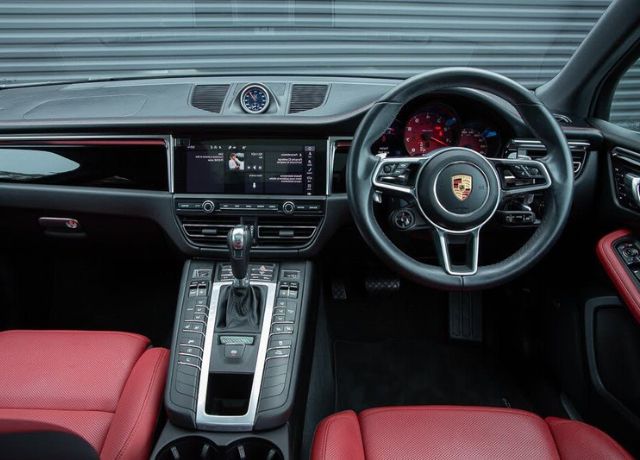 Porsche Macan:
The Porsche Macan, an SUV with red interior 2022, is a bold choice that adds a splash of color to the German automaker's already striking design. Of the eight available colors, the Bordeaux red leather and the extended red leather are two of the most eye-catching choices.
The Macan SUV red interior is more than just good looks, though; it also comes with a selection of outstanding, powerful engines, ranging from a 261-hp turbocharged four-cylinder to 434-hp in the Macan GTS.
The red interior is limited to the seats in the base trim, but in the GTS and Turbo models, it expands to the door panels and dashboard inserts for a bold look. Make sure to complement the attention-grabbing interior with more subdued exterior color.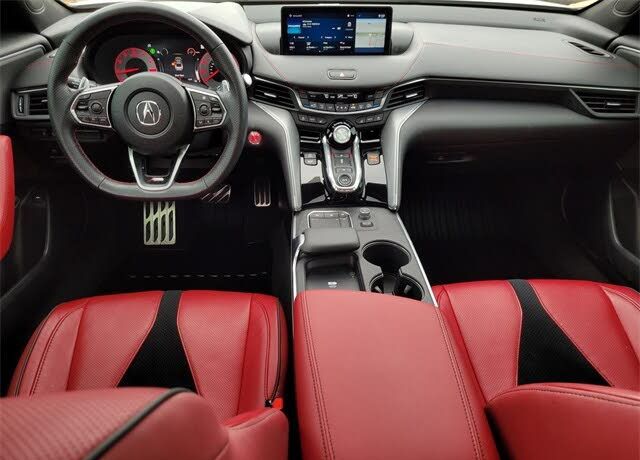 Acura TLX:
The Acura TLX is a sleek sedan that really stands out because of its optional red interior. Those who appreciate finer things in life will adore this automobile. While the top-tier S-Type has an eye-catching geometric pattern, the A-Spec package delivers a dramatic black and red interior car.
The TLX's Super Handling All-Wheel-Drive technology and its 355-horsepower turbocharged V6 engine guarantee outstanding performance. The TLX's athletic exterior is beautifully complemented by the option of a bright yet subdued crimson interior.
Even though it's a bit on the pricey side, the exceptional quality, and extensive features more than makeup for the higher asking price. The Acura ILX, which has since been discontinued, offers a comparable cabin at a lower price.
Overall, this red interior luxury car is one of the best decisions to make.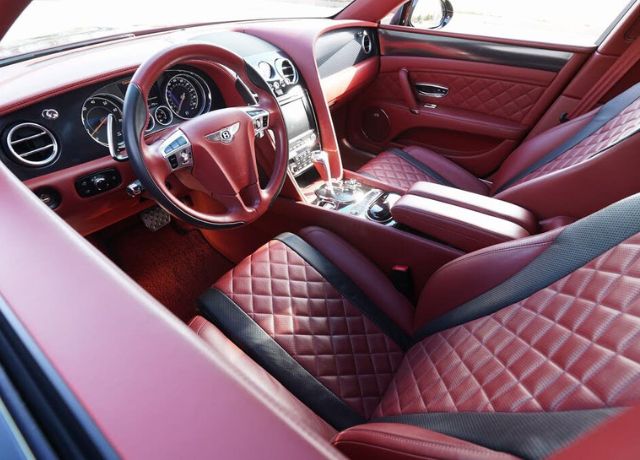 Bentley Flying Spur S:
The Bentley Flying Spur S is the perfect car for those who crave luxury and speed. With a darker edge, it's a Bentley that you'll want to drive rather than just sit in the back of. The Flying Spur S, a red interior luxury car, can be ordered with dark red highlights in the black cabin, unlike the rest of the line.
Those with deep pockets can have the interior customized to any shade of red by the Mulliner division. The Flying Spur costs more than $200,000, has a hybrid drivetrain, and is powered by a V8 with more than 500 horsepower.
The seats, carpet, panels, and even the steering wheel are all red, making it one of the few 2023 cars with red interior that is all bright.
The Bentley Flying Spur's 198-mile-per-hour top speed may make up for its less efficient fuel use.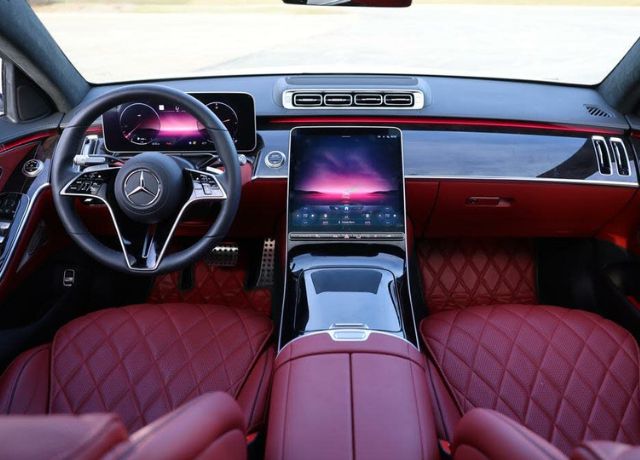 Mercedes S-Class Sedan:
Looking for luxury 2023 cars with red interiors? The Mercedes-Benz S-Class Sedan should be your ultimate consideration. It costs an additional $5,000 to get the gorgeous Carmine Red/Black Special Nappa leather interior, which brings the total price to $111,000.
Yet, if you can afford an S-Class, the additional cost of the Warmth & Comfort Package is not out of the question. Nevertheless, the most recent S-Class offers 463–703 HP and respectable MPG ratings (20 city/29 highway).
It's the ideal high-end luxury vehicle, with its bright red interior, thanks to its dependability, good looks, and incredible comfort. 
Porsche Panamera:
The Porsche Panamera is an outstanding example of a luxury sedan, boasting a potent V8 engine and a choice between all-wheel drive and rear-wheel drive. But the striking red leather interior is what really makes it stand out.
The Panamera's red leather seats and interior details capture the spirit of this vehicle, which is all about passion, energy, and power.
These red interior cars are ideal for people who wish to make a bold statement and make an incredible impact since it is capable of speeds of up to 190 miles per hour and boasts remarkable performance capabilities.
Exotic Cars With A Red Interior: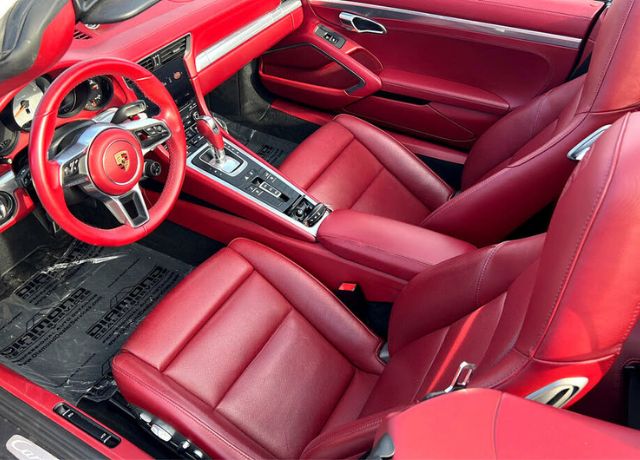 Porsche 911:
The Porsche 911 is not your average sports car, and its red interior only adds to its allure. The interior is upholstered in luxurious red Bordeaux leather.
Nevertheless, looks aren't everything. The supportive seats and responsive steering wheel create a first-rate driving environment. The flat-six engine in the base model produces 379 horsepower, but in the higher trims, that number may rise to almost 500.
Over 50 years after its introduction, the Porsche 911 continues to set the standard for excellence in design and construction. The Porsche 911 is an excellent option if you're looking for sporty and quick cars with a red leather interior.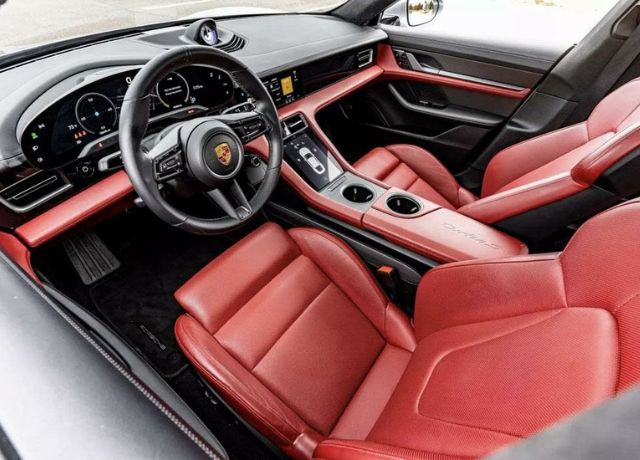 Porsche Taycan:
Yet another excellent model from Porsche. The Porsche Taycan is an excellent option if you want a car that is both environmentally friendly and striking in appearance. This electric sedan has excellent performance and handling, and it can be had with a flashy red interior that will turn heads.
The $4,700 premium for the Bordeaux red Race Tex fabric is well spent. The red interior is beautifully constructed, with incredible attention to detail.
Everything from the soft leather seats to the well-appointed dashboard contributes to an enjoyable and relaxing ride. The Taycan's red car interior looks great with the 750 horsepower that can be generated by the electric motors.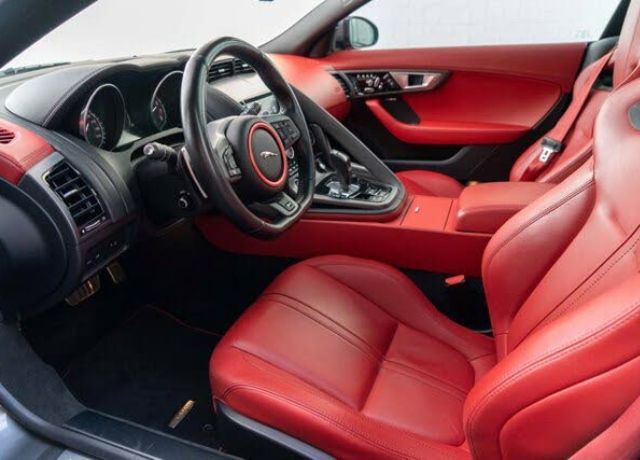 Jaguar F-Type R:
The Jaguar F-Type R is a car that radiates beauty and class, and its red interior takes it up a notch. The luxurious interior with its Mars red leather seats, steering wheel, and dashboard is hard to resist.
This hue stands out brilliantly against the neutral exterior paint. The moment you enter the vehicle, you are transported to a realm of refined luxury.
But aesthetics aren't everything. It's good knowing that the color red is energizing and may increase alertness when driving. The F-Type R's exciting performance comes from its high-powered V8 engine, which generates 575 horsepower.
Also, the convertible top lets you show off the red interior luxury car while listening to the roar of the motor in all its pure glory.
The F-Type R's striking good looks are complemented by its seductive red interior. The Jaguar F-Type R is the best choice if you want a high-end, high-performance sports car.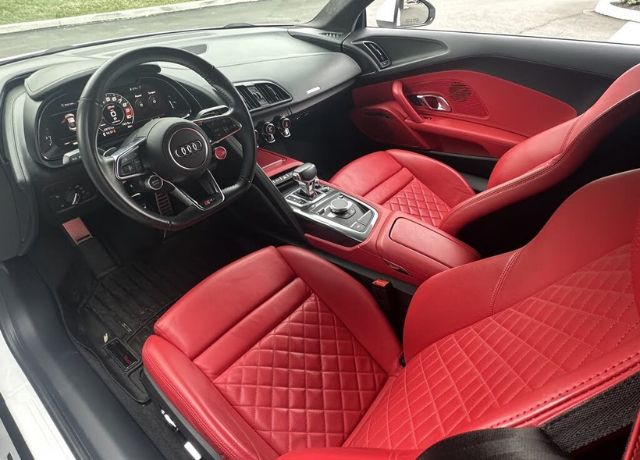 Audi R8:
The red interior of an Audi R8 is a great choice if you're looking for a flashy luxury vehicle. It has a beautiful design and is loaded with advanced functions.
Its powerful engine allows it to go from 0 to 60 miles per hour in under three seconds. Also, a smaller rear seat can be found in the Avant model, making it suitable for families.
The car's red interior seats are stylish and comfortable, and the interior design is well thought out. The Audi R8 is the ultimate automobile because it combines outstanding performance with stunning good looks.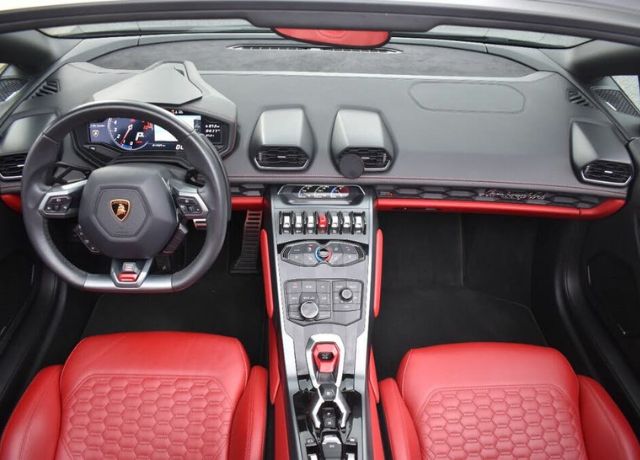 Lamborghini Huracan:
The Lamborghini Huracan is not just a car, it's a work of art. The Italian design and performance of this supercar are legendary. The car's red interior, though, is what really makes this car stand out.
The room's strong and exciting vibe is courtesy of the red leather seats and another decor. The dashboard's elaborate stitching patterns and state-of-the-art technology make it both aesthetically pleasing and practical.
The ambient lighting can be adjusted to set the right tone for every event. The Lamborghini Huracan, with its eye-catching red interior, is an excellent option if you're shopping for a fast and luxurious car.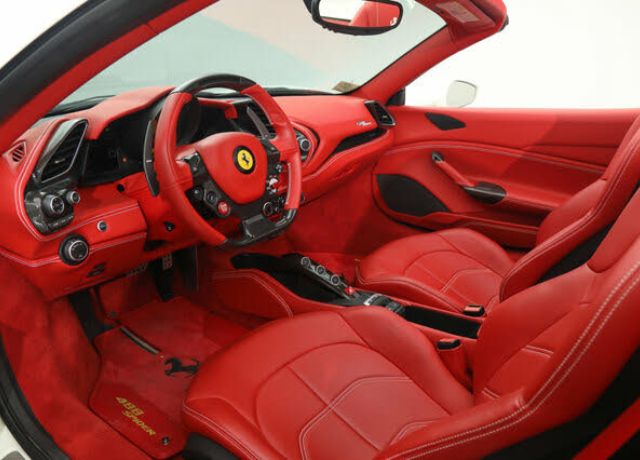 Ferrari 488:
The Ferrari 488 is the epitome of Italian automotive engineering. This beautiful vehicle is powered by a twin-turbocharged V8 that generates 605 horsepower and allows it to go from 0 to 60 miles per hour in just 3.0 seconds.
The 488's stunning red cabin is what really sets it apart, though. This vehicle oozes sophistication and luxury from every angle, from the magnificent leather upholstery to the brushed aluminum details.
The Ferrari 488 is the ultimate statement car, whether you're driving through the city or out on the open road. If you can aim for perfection, why settle for less? The 488, cars with red interior 2022, are waiting for you.
Buyers Guide (Choose Cars With A Red Leather Interior):
Consider What You're Looking For In a Car:
Purchasing a car is a significant investment, so it's smart to give some thought to your wants and needs before you shop. Think carefully about what features are most important to you, such as storage capacity, passenger convenience, gas mileage, and operational costs.
Do you want a car for highway travel or for off-roading? Do you want a car that's good for the whole family, or do you want a sports car with a red interior? Before making a choice, consider how it will fit into your daily routine and what you'll actually need.
When you know exactly what you're looking for, you can narrow down your options and focus on the perfect vehicle. So, take your time, do your research, and get ready to hit the road in style!
Safety Features:
When buying a car with red interior 2022, safety should be at the forefront of your mind. Buying a car with added safety features is crucial for both your safety and the security of your investment.
Some important safety features to look out for are airbags, electronic stability control, rearview cameras, and blind spot monitoring. Automatic emergency braking, lane departure warnings, and adaptive cruise control help prevent accidents and safeguard you and your passengers.
Thus, if you're shopping for cars with a red leather interior, don't forget to put safety first.
Mileage & Durability:
Car durability and gas mileage are two major considerations when making a purchase. The car's range and lifespan are important factors to consider.
If you put 15,000 miles a year on your brand-new car, you should expect it to last between 10 and 12 years. 
If your annual mileage is under 30,000, you may save money on petrol and repairs by purchasing a less expensive vehicle. You should give some thought to your driving requirements before choosing a choice.
Price:
Let's talk money, honey! The price of a car with a red interior is a big factor for many consumers. The first step is to figure out whether a brand-new or used vehicle is more practical for your budget.
New vehicles can cost anywhere from $30,000 to $80,000 or more, while the price of a used automobile can be anything from a few thousand dollars to more than $25,000.
Make a plan and stick to it. However, you should also think about expenses like insurance, gas, and repairs. Before settling on a price for your dream car, do some comparison shopping.
Conclusion:
Last but not least, we hope that this list of the top 18 cars with red interiors has helped you focus on the perfect vehicle for you. There's a red-interior car out there for everyone, whether you're shopping for a high-end ride, a sports car, or a family sedan.
While making your final choice, take into account the features we covered, such as safety, mileage, durability, and affordability.
Take some time to think about your priorities and needs so that you can make an informed decision about which car is best for you. Happy car shopping!