Lamborghinis are recognized for their:
Elegant Styling
Powerful Engines
Unmistakable Appeal
But what if you could get that same bold and powerful look in cars that costs less or offers different features?
That's where cars that look like Lambo come in. In this post, we'll look at the 14 most stunning and eye-catching vehicles that have comparative appearance and performance as Lamborghinis but with different features.
Whether you're a car enthusiast or simply appreciate great design, these cars are sure to turn heads and inspire admiration.
So grab your seat belts and come along for the trip as we examine some of the best cars that look like a Lambo.
14 Cars That Look Like Lamborghinis: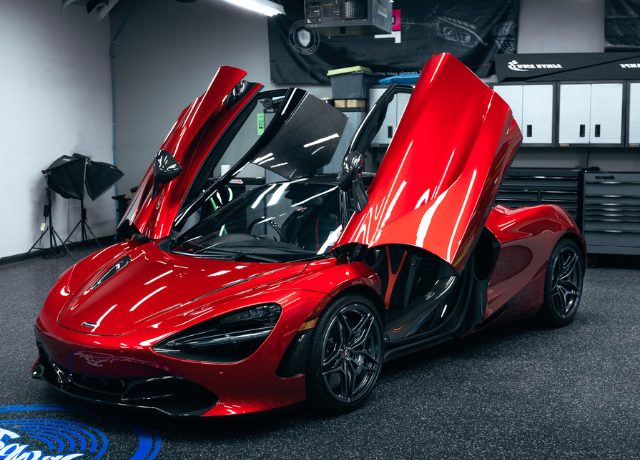 Mclaren 765 LT:
The McLaren 765 LT is one of the most impressive cars that look like Lamborghinis. Its high-powered supercar's aggressive good looks are the result of its aerodynamic shape, which has sharp lines and curves.
The McLaren 765 LT has a twin-turbocharged V8 engine that generates 755 horsepower, making it one of the most powerful production cars in the world. This enables the vehicle to accelerate from 0 to 60 miles per hour in under 2.7 seconds.
The McLaren 765 LT isn't only fast and powerful; it also has a number of cutting-edge technologies, such as:
Open-Air Delights
A Front-End Lift System
Driver-Assistance Features
Perimeter Alarm
And more.
To conclude, the McLaren 765 LT car strikes a perfect balance between a luxurious interior and a powerful engine, making it an exceptional automobile.
At a starting price of $382,000, you can get your hand on these hard-core sports cars that are focused on Blistering performance.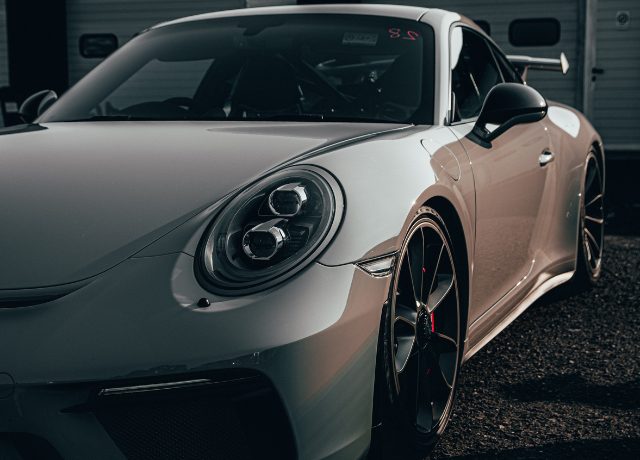 Porsche 911 Gt3:
It's hard to deny that the Porsche 911 GT3 looks like a Lamborghini. It has a:
Sleek
Athletic profile
A Modern, Minimalist Style
The Porsche 911 GT3 cars have a 4.0-liter naturally aspirated flat-six engine, sufficiently producing 502 horsepower and a 0-60 mph time of 3.2 seconds.
Some of the cutting-edge amenities the car offers include:
Track Day Features
Excellent Handling
Top-notch Performance
Lightweight Body
Advanced Aerodynamics
Rear Seats/Four Seats
All Wheel Drive
Now drivers can get otherworldly performance and uncompromised driving experience all thanks to its:
Control Arm Front Suspension
Adaptive Dampers
Tremendous Cornering Grip
Hot-Lap Capability
There is a wide variety of Porsche 911 GT3 customizations available, allowing owners to customize their vehicles to their specific tastes.
If you're looking for cars that look like a Lamborghini but have Porsche reliability and performance, the Porsche 911 GT3 is a fantastic option.
These sports cars provide a once-in-a-lifetime driving experience and are a true driver reward.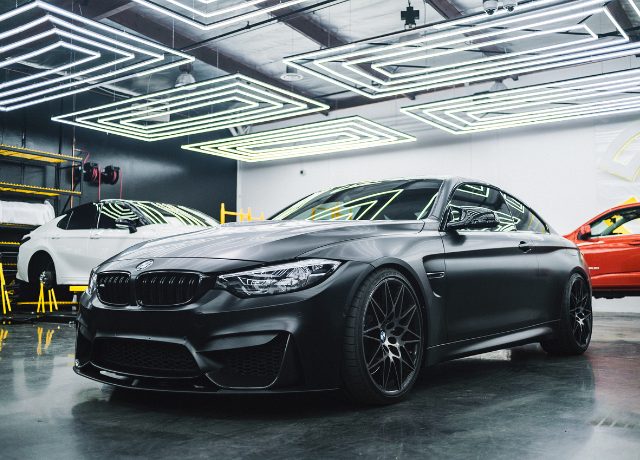 BMW M4:
The BMW M4 is a sleek, stylish, and exceptional performance car that is often considered a BMW that looks like a Lambo or a BMW Lamborghini look alike.
It has a sleek and aerodynamic design with aggressively angular lines and curves. Handling extreme corners is like a piece of cake for these top cars.
The BMW M4 has a 3.0-liter twin-turbocharged inline-six engine, which allows it to accelerate from 0 to 60 mph in 4.1 seconds. All thanks to its whopping 510 Hp engine.
The remarkable and high-quality interior is loaded with cutting-edge technology, and the vehicle itself performs flawlessly. In addition, you receive some of the quality features such as:
BMW Intelligent Personal Assistant voice-command
Carbon-Fiber Roof
Fade-Resistant Carbon-Ceramic Brakes
Harman Kardon Audio System
Gesture Controls
Carbon Ceramic brakes
A Subscription-Based Wi-Fi hotspot
Rear seats/Four seats
If you're looking for a car with Lamborghini looks and BMW reliability and elegance, the BMW M4 is a perfect choice.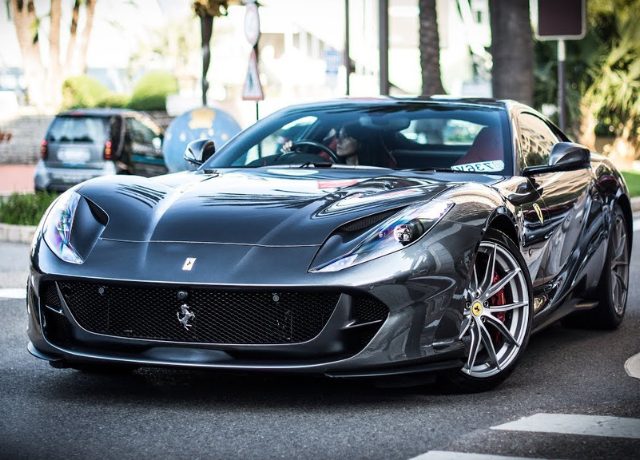 Ferrari 812 Superfast:
The Ferrari 812 Superfast is a breathtaking vehicle that shares some characteristics with Lamborghinis.
It has a tremendous naturally aspirated 6.5-litre V12 engine that generates 789 horsepower and a sleek and aerodynamic body. Because of this, the Superfast can accelerate from 0 to 60 mph in under 2.8 seconds.
The cabin of this engineering masterpiece is equally state-of-the-art, with cutting-edge features and premium materials. Some notable features include:
Roof-Folding Mechanism
Integrated Navigation System
Voice-Activation
Driver-Assistance Features
You won't find a more versatile sports car than this one. As a sports car, it has one of the largest trunks available i.e. 18 cubic feet.
In addition, it allows you to tailor your vehicle to your individual preferences through a variety of available customizations.
The Ferrari 812 Superfast is an excellent option for individuals in the market for cars that look like Lamborghini and the unrivaled performance and status associated with the Ferrari brand.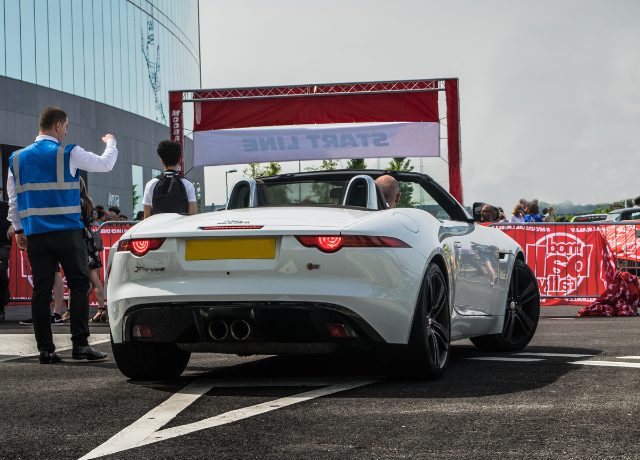 Jaguar F-Type:
The Jaguar F-Type is an elegant supercar that shares some design characteristics with Lambo.
Jaguar F-Type has a range of potent engine options, including a 5.0-liter twin-turbocharged V8 engine that can generate up to 575 horsepower and a sleek and aerodynamic body design. Thus equipped, the Jaguar F-Type can accelerate from 0 to 60 mph in as little as 3.5 seconds.
The Jaguar F-Type interior and exterior are both luxurious and exceptional. Some of the features that make the Jaguar F-Type ahead of its counterparts are:
Stable Performance
Stunning Design
12-way adjustable seats
Heating and Cooling car seats
Touch Pro Infotainment System
Driver-Assistance Features
If you're looking for a car that can fool people into thinking it's a Lamborghini without breaking the bank and turn heads, the Jaguar F-Type is your best bet.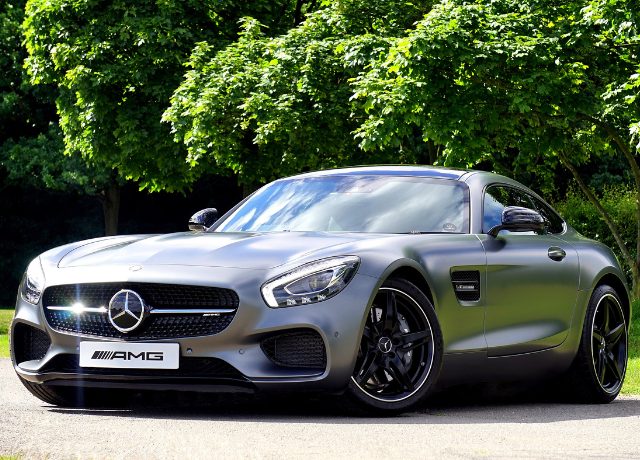 Mercedes-Benz Amg GT:
The Mercedes-Benz AMG GT are high-end sports cars that look like it could have been inspired by Lamborghini models.
These high-performance luxury sports cars have been turning heads since their debut.
Due to its sleek lines and powerful engine under the hood, this car has been designed to inspire people.
One of the Mercedes Benz GT's potent engine choices is a twin-turbocharged V8 engine with 577 horsepower. This allows these sports cars to reach the top speed of 198 mph with 0-60 mph in just 3.6 seconds.
It has a long hood and a small rear deck, giving it a low and aerodynamic profile. Whereas astonishing quality features like:
Rear wheel drive
Driver assistance systems
7-speed automatic transmission
Automatic climate control
Vehicle Stability Control System
Driver and front passenger Airbags
High-End Infotainment system
make this two-door coupe one of the most desirable cars that look like Lamborghinis.
The Mercedes Benz AMG GT has an interior that is both exotic and technologically advanced. You can find high-quality materials all over its interior.
Mercedes Benz AMG GT's a wonderful option for individuals seeking a vehicle with the visual appeal of a Lamborghini to turn heads but the comfort and security features of a Mercedes-Benz.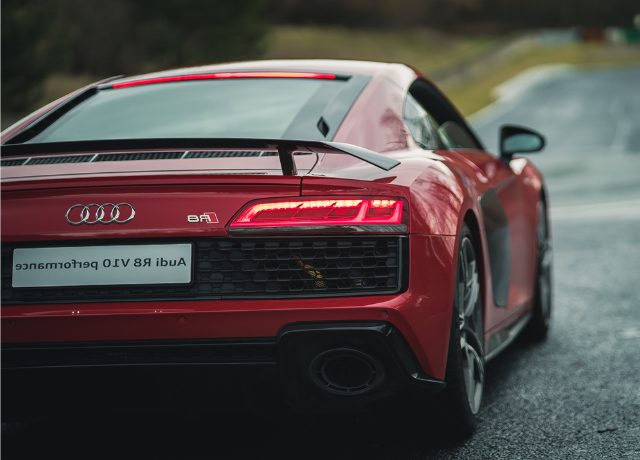 Audi R8:
The Audi R8 is a beautiful, aerodynamic sports car that has been highly acclaimed for its powerful engine and cutting-edge technologies.
Nonetheless, the R8's many similarities to Lamborghinis are one of its most intriguing characteristics. The Audi R8 competes head-on with the Lamborghini Huracan.
The R8 has a V10 engine that can generate up to 562 horsepower and 406 lb-ft of torque, allowing it to achieve speeds of nearly 200 miles per hour.
With an impressive 14 mpg in the city and 23 mpg on the motorway, its fuel economy is equally impressive making it ideal for a daily driver.
It's also loaded with high-end specs like:
Digital Instrument Cluster
Bang & Olufsen stereo
All Wheel drive
Driver assistance features
Titanium exhaust system
S tronic Sequential Shift Control
Gas-Pressurized Shock Absorbers Front And Rear
Anti-Roll Bars
Sport Tuned Suspension
It has a classy and sophisticated interior with supportive seats and high-quality materials. Having a ride in R8 is nothing less than a driver reward.
The Audi R8 is a remarkable vehicle that, for a starting price of $158,000, competes favorably with the Lamborghini Huracan in terms of looks and performance while providing extra luxury and a classic design.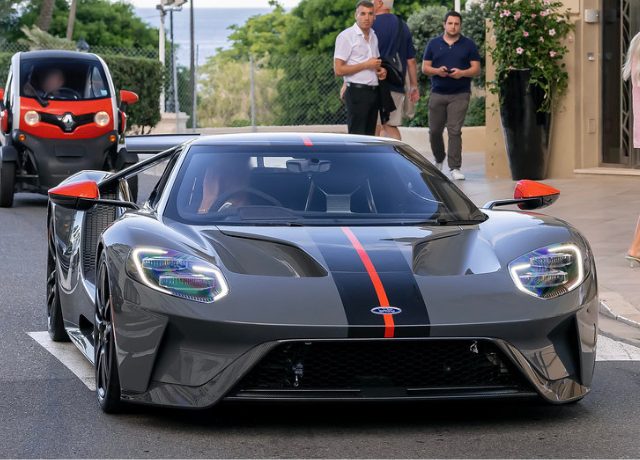 Ford GT 3:
It's unlikely that a Lamborghini would be your first thought when I mention a Ford GT. Nonetheless, the Ford GT has some resemblances to the legendary Italian sports vehicle.
The Ford GT and Lamborghini share many design cues, including
Low Profile
Aerodynamic Shape
Sharp Angles and Sleek Lines
The Ford GT 3 was designed from scratch to compete in endurance races such as the Le Mans and Daytona. It features a lightweight body for improved aerodynamics.
The Ford GT3 also boasts some of the most amazing quality features in the league like:
Adaptive Spool Valve
Center-lock wheels
Roll Cage
Fire Suppression System
Racing Seats
Infotainment system
Titanium exhaust system
Driver assistance systems
Rear wheel drive
In addition, the GT 3 is propelled by a 6.6-liter twin-turbo V6 engine that allows for speeds of over 200 miles per hour.
Moreover, you also get a luxurious interior, impressive cargo space, good gas mileage, and several carbon fiber parts that make it equally impressive and one of the most desirable cars.
The Ford GT 3 is an outstanding vehicle that combines the Italian elegance of Lamborghini models with the robustness of an American Ford.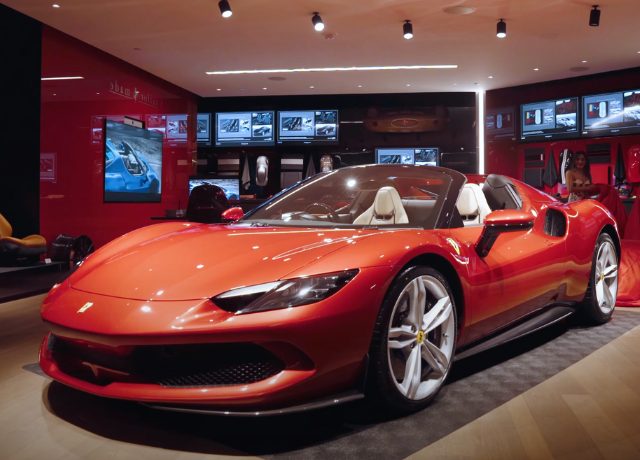 Ferrari 296 GTB:
When it comes to high-performance sports cars, Ferrari's newest offering, the 296 GTB, is hard to beat. The 296 GTB represents a bold new chapter in Ferrari's history.
Its distinctive appearance, with its low, aggressive profile, aerodynamic design, and outstanding acceleration is hard to miss.
The 296 GTB car is one of the most deadly Ferraris ever built because of its hybrid V6 engine, which generates 818 horsepower. It has a top speed of nearly 205 miles per hour and can accelerate from 0 to 60 mph in 2.9 seconds.
But the 296 GTB car is not all about the raw power – It also boasts some of the most advanced features and a beautiful interior that is not less than a daily driver reward. Some of the quality features of these sports cars include:
Eight-Speed Automatic Transmission
Carbon-Fiber Wheels
Carbon-Fiber Seats
Brake-By-Wire System
Rear Wheel Drive
Driver and Front Passenger Personalization Options
Carbon Ceramic Brakes
Impressive Cargo Space
The 296 GTB's superior performance and handling are the result of its cutting-edge technology and suspension systems.
The Ferrari 296 GTB car is an outstanding example of Italian beauty and performance at its finest and cars that look like a Lambo. These are one of the fastest cars with low ground clearance and are one of their own kind, unlike other cars.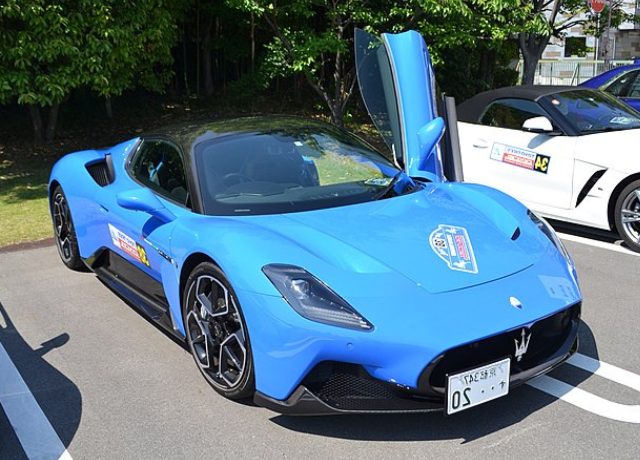 Maserati MC20:
The Maserati MC20 is a luxury car with a sleek, aerodynamic appearance car with Lamborghini looks. It has a
It has a 3.0-liter twin-turbo V6 engine that generates 621 horsepower and allows it to accelerate from 0-60 miles per hour in 2.9 seconds. The interior is just as well-made and technologically modern as the outside.
The first thing about MC20 that is gonna inspire you is its aerodynamic shape and sleek lines all over the exterior. The body has been specifically designed to reduce drag to give exceptional performance on the road.
Following are some of the quality features this car offers:
Carbon-Fiber Structure
Retractable Glass Roof
Electrochromic Glass Panel
Eight-Speed Automatic Transmission
Adaptive Suspension
The interior is nothing less inspirational than its exterior. You get a minimalist design with premium materials throughout.
The interior gives you an air of sophistication and elegance thanks to the following quality features:
Leather Seats With Contrasting Stitching
Aluminum Pedals
Carbon Fiber Trim
Digital Rear-View Mirror
The MC20 may not be a Lamborghini, but it offers its own special set of benefits to those who value speed, good looks, and comfort for both driver and front passenger in a vehicle.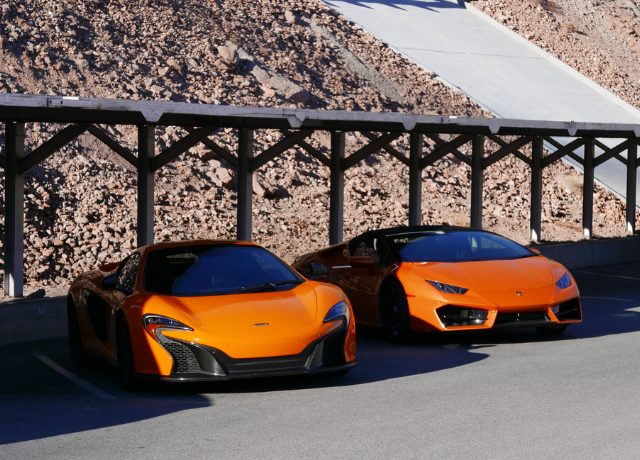 McLaren P1:
The McLaren P1, with its sleek and aerodynamic design, is a car that needs no introduction. The car quickly got the attention of the world after they were unveiled at the 2012 Paris Motor Show.
The McLaren P1 is a hybrid hypercar that produces 903 horsepower and its outstanding acceleration allows it to go from 0 to 60 miles per hour in 2.8 seconds. It can reach 217 mph at top speed and can go 19 miles on electric power alone.
But speed isn't everything that the P1 sports car has to offer- this hypercar also boasts advanced features such as:
Deep and High-Bolstered Race Seats
Configurable Instrument Cluster
Carbon Fiber MonoCage
Instant Power Assist System
Driver Assistance Features
Rear Wheel Drive
This sports car has a carbon-fiber body and a variable-height rear wing for increased downforce. The interior is equipped with a touchscreen display that controls the car's settings and provides real-time information.
The P1 is one of the rarest and most valuable hypercars on the market because only 375 were ever made. The P1 exemplifies McLaren's dedication to innovation in the automotive industry.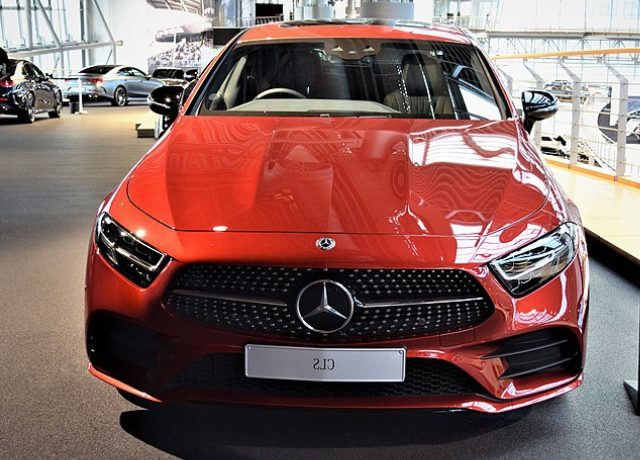 Mercedes-Benz Cls Class:
The Mercedes-Benz CLS-Class is a high-end luxury car that prioritizes beauty and class. The car is one of the most sought on the market because of its combination of high-end amenities, high-quality materials, and dynamic classic design.
The Mercedes-Benz CLS Class-aerodynamic, low-slung profile is a key factor in cars that look like a Lambo. The car's swooping lines and low profile are similar to Lamborghini Aventador, and they give it an aggressive appearance.
A 3.0-liter inline-six turbocharged engine paired with an electric motor produces a combined 362 horsepower in the Mercedes-Benz CLS Class. This allows the car to reach a maximum speed of 150 mph and 0-60 mph within just 7.5 seconds.
Some of the most advanced features of this beast sports car include:
Active Suspension Systems
Burmester Surround Sound system
The Automaker's Active Park-Assist System
Nappa Leather Upholstery
12.3-inch Digital Gauge Cluster
Touchpad Controller
Automatic Climate Control
Mercedes' MBUX Operating System
Robust Voice-Recognition Software
I would recommend it to anyone shopping for a high price tag luxury car who values both comfort and performance.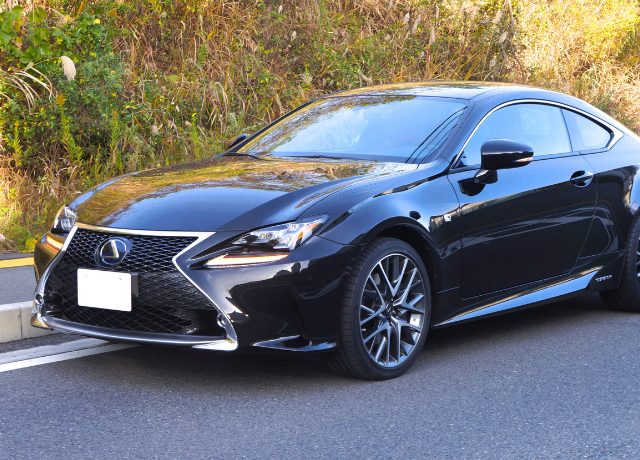 Lexus RC:
The Lexus RC is an elegant and refined luxury car. It looks aggressive and sporty because of its aerodynamic style and angular lines. Besides being sporty, it's equally comfortable due to the use of high-quality materials all over the interior.
The RC's performance is on par with that of a Lamborghini, thanks to its potent V6 powerful engine and agile handling. The car engine produces 311 horsepower and can go from 0-60 miles per hour in just 5.6 seconds.
Besides speed, the Lexus RC has more to offer. This car similar to Lamborghini models comes equipped with advanced features like:
Heated and Ventilated Front Seats
Rain-Sensing Wipers
Heated Steering Wheel
Upgraded LED Headlights
Touch-Sensitive Slider Controls
Forward-Collision Warning
Automated Emergency Braking
Automatic Climate Control
Advanced Infotainment System
Rear Wheel Drive
In addition, when viewed from a distance, the two cars appear to be identical due to the similarity in the design of their LED headlights.
The Lexus RC's wide wheels and low ground clearance are two more characteristics that call to mind a Lamborghini.
If you're shopping for high-quality coupes, not the cheapest cars, that doesn't sacrifice performance, the Lexus RC is a fantastic choice.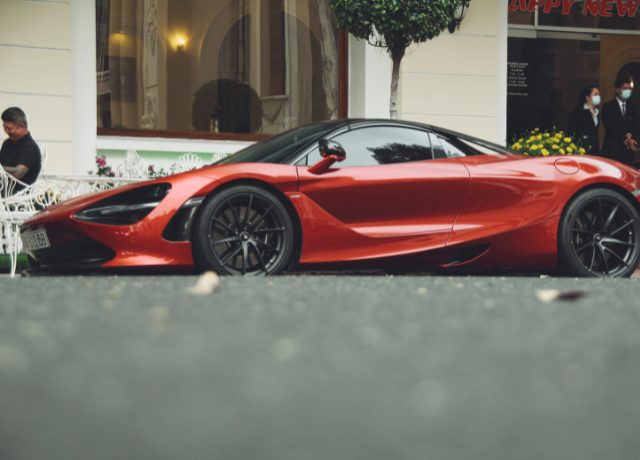 Mclaren 720s:
The McLaren 720S is a magnificent supercar that has unparalleled speed and innovative features, unlike other vehicles. Its carbon-fiber monocoque chassis contributes to its aerodynamic classic design.
Its twin-turbocharged V8 engine generates a whopping 710 horsepower. The 720S can attain a top speed of 212 mph and due to its outstanding acceleration, it can go from 0-60 mph in just 2.8 seconds.
It rides smoothly and handles well thanks to its high-tech suspension and active aerodynamics. Moreover, you get features like:
Dual-Clutch Transmission
Retractable Hardtop
Carbon-Fiber Exterior
Electrochromic Glass Roof
McLaren Track Telemetry
Unrivaled Chassis Tuning
12-Speaker Bowers & Wilkins Unit
Front-End-Lift System
Carbon Ceramic Brakes
The 720S' narrow headlights and long hood are typical of the front ends of other Lamborghinis, such as the Lamborghini Aventador and the Huracan.
In sum, the McLaren 720S is an unparalleled supercar that excels in every measurable category and is one of the fastest cars just like Lamborghini. But they are not the cheapest cars, to get your hands on this high-price tag car, get ready to break the bank.
Why Are Lamborghinis Popular?
Lamborghinis are popular for reasons other than their astounding performance which make them some of the best cars. The following are just a few of the many reasons why these high-end sports cars are constantly selling out unlike other cars:
Beautiful Interior:
Lamborghinis are notable not only for their stunning exteriors but also for their high-quality, well-designed, practical, and luxurious interior, which sets them apart from other several cars. 
The carbon fiber seats are designed to keep you comfortable and supported even on long trips. 
In addition to being a luxurious option, Lamborghinis are also a practical one due to their large cargo areas. 
The beautiful interior of a Lamborghini is known for its engineering excellence and use of premium materials. The attention to detail that Lamborghini provides is what makes the brand so beloved.
Price:
Owning an expensive vehicle like a Lamborghini is a status symbol for many people. People are naturally curious about the reasoning behind the high price tag attached to high-end cars. 
People's interest in the car grows as a result of their curiosity, which boosts sales. The high cost of a Lamborghini reflects the premium nature of its components and the careful attention to detail of its designers and builders. 
If you have the means, owning a Lamborghini is a surefire way to set yourself apart from the pack. Owning one is about more than just having a fast car; it's also a way to preserve a piece of automotive engineering history.
The Low Numbers:
Lamborghinis are extremely rare despite being one of the most sought-after luxury sports cars in the world. 
Over the years, only a handful of models were introduced, and even those saw lower production rates than competitors like Ferrari. 
The fact that there are so few of them is one of the reasons why Lamborghinis are so the most desirable cars.
Due to their limited availability, these automobiles carry with them an aura of mystery and prestige that is unrivaled by any other vehicle.
Quality Features:
You won't find many other cars with the same level of cutting-edge technology as a Lamborghini. 
The interiors of Lamborghinis are designed to be as comfortable and luxurious as possible, with features such as Napa leather upholstery, automatic climate control, and an automatic mirror dimming system. 
The Bang & Olufsen sound system is just one more high-quality component that enhances the ride. 
But these cars aren't just luxurious and practical; they're also among the world's fastest. 
Averaging over 210 mph with an engine capable of producing over 700 hp, these hypercars are unrivaled in terms of speed and performance. 
Lamborghinis are widely regarded as the best sports cars in the world due to their unique blend of luxury and performance. 
 FAQs:
Q: Do We Have A BMW That Looks Like A Lamborghini?
A: Yes, the BMW M4 and BMW i8 are both known for their sporty and sleek exterior designs that resemble the Lamborghini.
Q: Are There Any Cheapest Cars That Look Like The Lamborghini?
A: There are, in fact, many less expensive alternatives to the Lamborghini. The Ford GT, Jaguar F-Type, Lexus RC, BMW M4, Mercedes-Benz AMG GT, and Porsche 911 GT3 are just a few.
Q: Is any Car similar to Lamborghini Huracan And Has Four Seats?
A: Yes, the Ferrari FF is a four-seater sports car that has a similar appearance to the Lamborghini Huracan.
Q: What cars look like Lamborghini Urus?
A: There are several cars that have a similar appearance to the Lamborghini Urus, including the Ferrari Purosangue, Porsche Cayenne Turbo, and the Maserati Levante.
Q: Are Lamborghinis cheaper than Ferraris? 
A: It depends on the specific model, as some Lamborghini are more expensive than certain Ferrari models, while others may be more affordable.
Q: What is the most liked Lamborghini? 
A: There are several Lamborghini models that are very popular among car enthusiasts, including the Aventador, the Huracan, and the Urus. Each of these models has its own unique features and capabilities that make them stand out in their own way.
Conclusion:
To sum up, Lamborghinis have long been a symbol of wealth and success, but there are lots of cars out there that give a comparable style for much less money. If you want to turn heads without breaking the bank, you have a wide range of possibilities, from the McLaren 765 LT to the Lexus RC.
Even if some of these options might not be as high-quality or as fast as a Lamborghini, it's clear to see why they're so popular.
These are the 14 top cars that look like Lamborghinis, do tell us in the comment section which car with Lamborghini looks would you choose and why? Thanks!