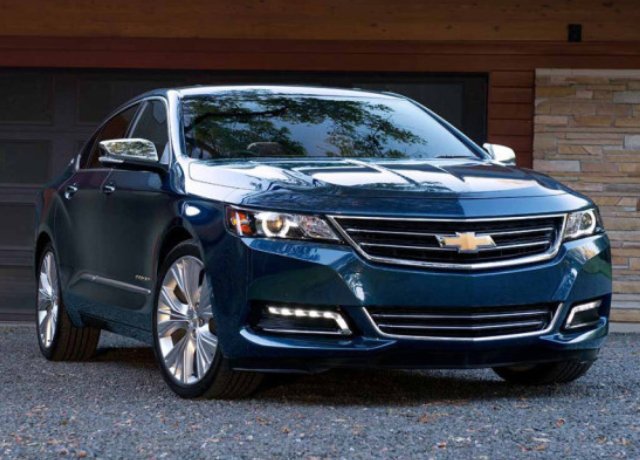 Introduction:
The 2022 Chevrolet Impala Premier has arrived, heralding a new generation of one of the auto world's most iconic midsize sedans. The Impala can be the perfect vehicle for you if you're seeking a high-performance, high-end, and highly practical typical full-size sedan.
Impala 2022 Chevy is an automotive work of art boasting sophisticated design, luxurious comfort, loads of advanced safety features, and powerful performance. The interior, exterior, and every moving part of this car are of such high quality that any buyer will be pleased.
Let's take a closer look at why it could make such a great choice for those coveted keys on your key ring.
12 Best Electric Cars For Tall Drivers 2023 [Pictures & Dimensions] | Flawless Car Guide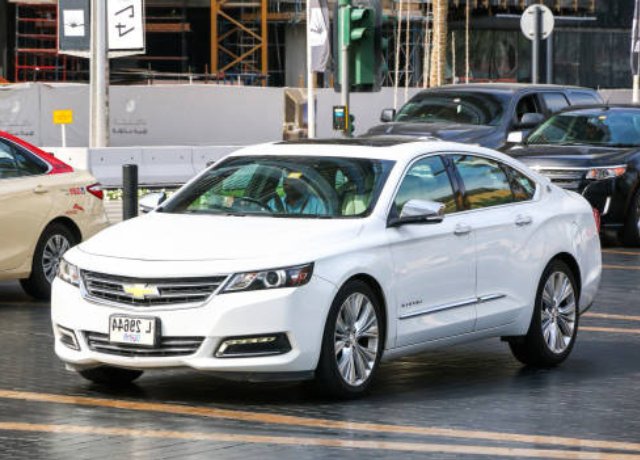 Trims Of Chevrolet Impala:
2022 Chevy Impala trims are pared down to two – LT and Premier. The previously produced LS variant has been disabled now.
Chevy Impala LT:
The Chevy Impala LT provides its passengers with every convenience. The interior has a high-quality fabric and synthetic leather upholstery seats for a refined look and feel. The 8-way power driver's seat and automated climate control with separate zones will ensure that you enjoy maximum comfort on every trip.
If you like to stay on the cutting edge of technology, you're in luck: it's compatible with
Apple CarPlay
Android Auto
Satellite Radio
FM stereo
So you can enjoy countless hours of music and radio everywhere you go.
In addition, there are three USB connections and a six-speaker sound system in this vehicle. This will keep you energized at all times and improve your listening experience, making every ride in your Chevy Impala LT that much more pleasurable.
You may also get a comfortable package that boasts amazing features such as:
A heated steering wheel
Heated front seats
An auto-dimming mirror
A 120-volt power jack for powering up on long trips
This vehicle is equipped with more advanced safety features like:
Blind-spot monitoring
Lane change alerts
Rear traffic alerts
Rear parking sensors
All of which let you concentrate on the road and your surroundings without worrying about your safety.
7 Best Air Compressor For Car Detailing [Buyers Guide 2023] Flawless Car Guide
Chevrolet Impala Premier:
If you're looking for the pinnacle of Chevrolet luxury, go no further than Impala Premier. In addition to the standard equipment included in the Impala LT, this model adds several desirable extras, such as:
Larger alloy wheels (18-inches)
Wireless charging capability
An eight-way power front passenger seat
Luxurious leather seats upholstery
An accurate and up-to-date navigation system
Rear cross-traffic warning
Not to mention you'll even have a Bose speaker system for top-notch sound quality. Adaptive cruise control is included, as well as forward collision warning and lane departure warning for safety.
You also get the following as standard add-ons to compliment your drive in style.
Ventilated front seats
heated power steering
driver assistance features
double-panel sunroofs
With all these bells and whistles included, Chevy Impala Premier owners can experience luxurious and convenient comfort from every drive. Not to forget, you will also get two different variants; Premier Convenience Package and Premier Confidence Package.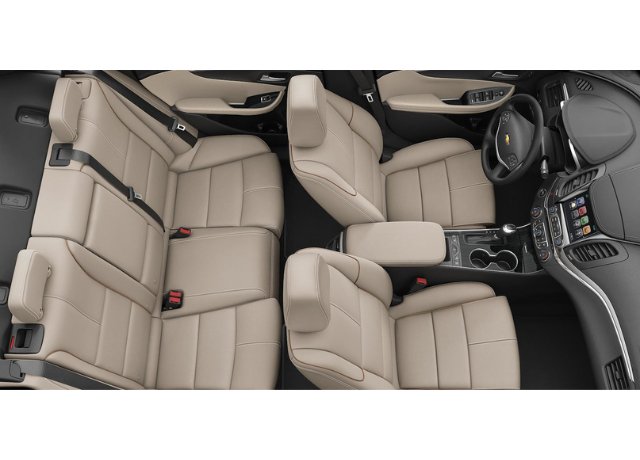 Chevrolet Impala Interior:
The Chevrolet Impala's cabin is spacious enough to comfortably seat five people. The generous rear-seat legroom ensures that even the longest car rides are enjoyable for three average-sized adults.
Some of the interior components are made of hard plastic, but the quality finish, soft-touch materials, and faux wood trim create an attractive atmosphere.
The addition of passenger controls and various storage spaces will make your trip more comfortable. The Impala has the largest trunk storage space in its class, measuring 18.8 cubic feet, so customers in need of extra storage capacity need not worry. So, the chevrolet Impala feels very comfortable and luxurious compared to those in the competition.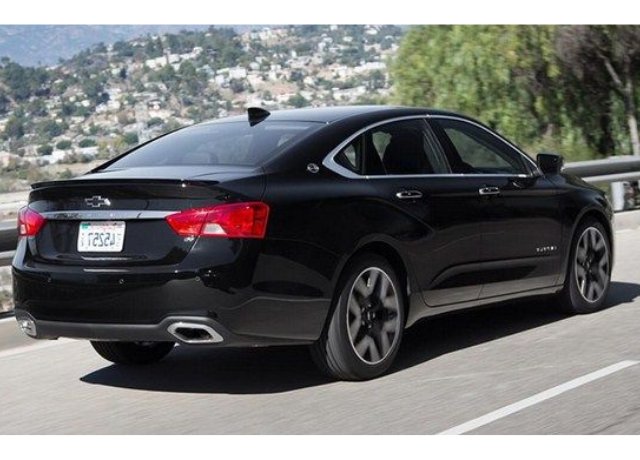 Chevrolet Impala Exterior:
Although I don't think the exterior of the Chevy Impala is very pretty due to its somewhat awkward gaping grilles, I can see how it could appeal to a wide range of people. Chrome double-bar grilles, paired headlights, and a matching impala's grille on the lower fascia all include LED daytime running lights for a sleek, contemporary look.
Also, if you need something particularly eye-catching, you can choose between alloys measuring either 18 or 19 inches.
Those who choose to purchase a Chevy Impala will have access to a dependable vehicle that is also packed with interesting extras.
2022 Chevy Impala Engine and Transmission:
The 2022 Chevy Impala is the best option for drivers who want a dependable and potent vehicle. This sedan's 3.6-liter V-6 engine and six-speed automatic transmission are likely to impress.
The Chevrolet Impala's engine and transmission are purposely engineered to provide reliable performance, whether you're looking for a hot rod or just daily transportation.
Put simply, it's easy to stay at the forefront of performance when you have a Chevy Impala under the hood.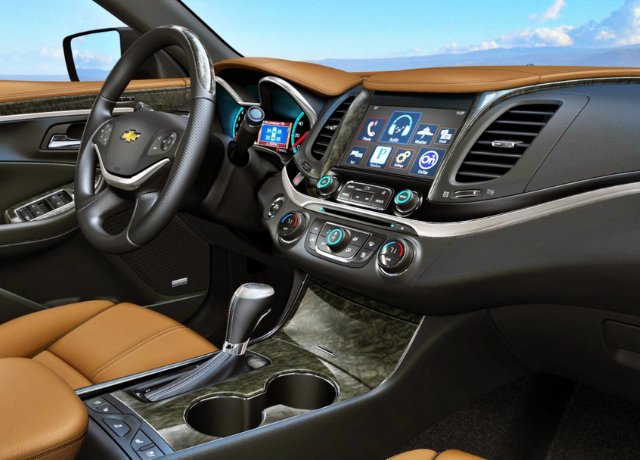 Entertainment:
Get ready to take your entertainment to the next level with the chevy impala. An impressive 11-speaker Bose system and a six-speaker audio system let music enthusiasts travel in luxury.
With Android Auto and Apple Car Play support, passengers have access to their favorite apps while on the go. The Impala features a Wi-Fi hotspot and three USB ports for passengers.
The car's suite of functions is rounded up with navigation that takes into account current traffic conditions and weather forecasts. Put together, the Chevy Impala is sure to provide an enjoyable drive with all these advanced entertainment systems.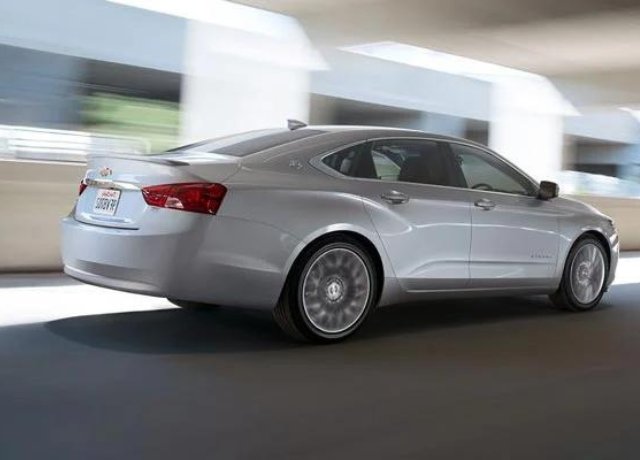 Safety Features:
The National Highway Traffic Safety Administration gave the Chevrolet Impala its highest possible crash safety rating of five stars, so you can trust in its reliability on the road. This high score is just one of several safety elements it provides.
A wide range of driver assistance systems, including lane departure warnings and automatic emergency braking, are also included. Plus, there's even a rearview camera that helps you avoid obstacles while reversing.
Additionally, you also get a forward collision warning, blind spot monitoring, adaptive cruise control, lane departure warning, parking sensors, and rear cross-traffic warning.
Everything works together to give you a great time behind the wheel of your Chevy Impala and give you peace of mind.
2022 Chevy Impala MPG:
The 2022 Chevy Impala offers drivers above-average fuel economy with a combined 22 MPG rating. A maximum of 28 mpg is possible when driving on the highway, making it a great choice for those who frequently take lengthy excursions in this large family-friendly car.
Drivers may still save money at the pump even while running errands or commuting around town, thanks to the vehicle's 19 MPG fuel economy. No matter where you're headed, the chevy impala has you covered with its impressive fuel economy.
Release Date:
Excitement is growing around the chevy impala's expected to release in 2023. This classic automobile has been out of production for a while, and its return to the market has been eagerly awaited by many customers.
The next generation of Chevrolet's flagship impala promises cutting-edge features, a sophisticated style, and unmatched power. Already generating buzz, people are wondering what Chevy's next-gen model, scheduled for release in 2023, will bring to the table.
How Much Is A 2022 Chevy Impala:
If you're looking to purchase a chevy impala, you have two great options at different price points. The LT is predicted to cost $32,000, while the Premier will set you back $37,000 but comes loaded with extras in the former case.
Depending on your needs and budget, any model can work well. The Chevy Impala is a tried and true choice because of its dependability and good looks.
FAQ Chevy Impala:
Q: Is Chevy Making A 2022 Impala?
A: Yes, Chevy is making a 2022 Impala. This Impala offers great performance in a sleek and attractive style. The 2022 Impala has a standard 3.6-liter V6 engine with 310 horsepower and 266 pound-feet of torque enough to carry a hefty weight. Its six-speed automatic transmission shifts smoothly which boosts fuel efficiency to 19 mpg city/28 mpg highway EPA figures.
Q: What Will Chevy Replace The Impala With?
A: Though many people are familiar with the iconic Chevy Impala, it is soon to be replaced by something a bit unusual: the GMC Hummer EV pickup truck.
This all-electric vehicle is slated to make its debut in 2022 and will take Impala's place as one of the most popular cars among Chevrolet drivers.
The Hummer EV's all-electric pickup truck makes it stand out in General Motors' portfolio. It features a premium battery and a 350-mile range, ideal for everyday commuting or weekend vacations.
Q: What Does The 2023 Chevy Impala Look Like?
A: The 2023 Chevrolet Impala comes with an entirely new sleek appearance, leaving behind its outdated design to embrace the future of automotive styling. Its exterior features a low hood line and muscular wheel arches, giving it a more stylish sporty vibe than the previous model year.
The new interior offers:
High-back seats with adjustable lumbar support for lengthy excursions
Keyless entry
Enhanced rear seat space
Apple CarPlay
Light steering
Increased storage space
Lane departure warning
An upgraded powertrain with an EcoTec same engine rated at up to 36 highway mpg gives relatively good fuel efficiency in its class.
With:
Front collision warning
Automatic emergency braking
Headlight control
Stability control
Cruise control
Larger Alloy Wheels
Good Fuel Efficiency
Driver assistance features
You have a powerful car that can handle any task while keeping your family safe! But these features are not sure to be added to the car.
Unlike the Chevrolet Camaro, you don't get muscular styling but still, it offers a decent style and design.
Q: How Much Is a 2022 Chevy Impala?
A: The starting new chevy impala 2022 price is $29,000. Depending on the trim level and features chosen, prices can go up to around $32,000. Expect to pay $29,000 for the Impala LT version and $32,000 for the 2022 Impala Premier.
Q: What Does Chevrolet's Certified Pre-Owned Limited Warranty include?
A: Chevrolet's Certified Pre-Owned program accepts six-year-old vehicles with fewer than 75,000 miles. Vehicle sales date determines eligibility. Certified pre-owned Chevrolets include a 6-year/100,000-mile powertrain warranty.
A bumper-to-bumper limited warranty will protect these vehicles for one year/unlimited miles after the first manufacturer's warranty of 36 months or 36,000 miles expires.
Before selling, Certified Pre-Owned Chevrolets must pass a 172-point examination. Towing and 24/7 roadside assistance is possible.
Q: What Is The Difference Between LT and Premier Impala?
A: The key difference between the LT and Premier Impala models lies in their features, comfort, price, and luxury car. The Impala LT trim is a more affordable base model for those seeking a comfortable driving experience without all of the additional bells and whistles seen in higher trim levels.
It still provides plenty of standard features like:
Android Auto
Apple CarPlay support
4G LTE/Wi-Fi hotspot capability
An 8-inch touchscreen Infotainment system
Heated front seats
A heated steering wheel.
On the other hand, the Impala Premier trim is much more luxurious and well-equipped with features such as:
A Bose premium audio system that delivers exceptional sound quality
Wireless device charging
Adds blind spot monitoring
Adaptive cruise control
Forward collision alert
Excellent highway tracking
Above-average reliability
When it comes to pricing too there's quite a difference between these two trims. While you can expect the new chevy impala 2022 price for the LT trim to be $29K- the 2022 Impala Premiere trim starts from just $33K making them slightly pricier than LT.
With all the features the Chevrolet impala feels like a luxury car in the full-size sedan segment
Q: What Is The 2022 chevy Impala MPG?
A: The 2022 Chevy Impala MPG is an impressive figure. On the highway, this vehicle averages 28 mpg, 19 mpg in the city, and a combined 22 mpg. Considering the large size of this sedan, these numbers are quite remarkable.
Not only is the Impala efficient but it's also powerful as well. Underneath its hood lies an impressive 3.6-liter V6 engine -more than enough power to get you where you need to go with ease while still managing good fuel economy ratings.
Conclusion:
The all-new Chevrolet Impala Premier will be a great car for those looking for a spacious and luxurious sedan for up to five people at an affordable price. With its comfortable ride, impressive handling, and powerful engine, the Impala should make driving a pleasurable experience even with the more demanding tasks.
It has all the features you could want in a full-size sedan segment. If you're looking for a new car, the Impala Premier should be at the top of your list. Make sure to book a test drive and test it on other uneven surfaces to check its performance.
I am sure due to its accurate steering in city traffic, controlled wind noise, combined with better rear and front wheels will give you a once-in-a-lifetime experience.