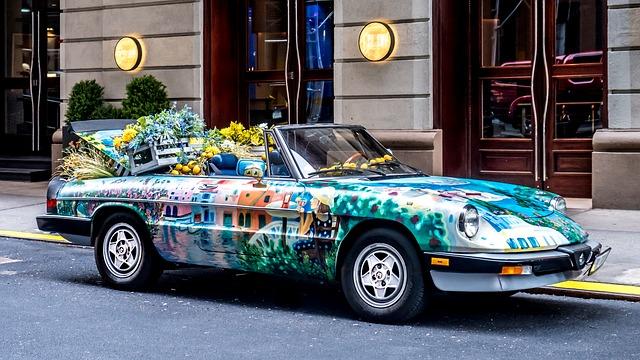 Why settle for driving a car that doesn't inspire you when you can decorate it? Driving a well-decorated car has its harm. Driving a decorated car will not only make you feel good but also a properly decorated car is a great head turner where ever you go.   
Cars are one of the easiest things to customize without compromising the budget. There are several ways to decorate your car exterior, but it is also crucial to follow car decoration ideas otherwise you will ruin the look of your car exterior.
As car exterior is the first thing people notice so today we will tell you, car decoration ideas so that you can decorate your car exterior.
Before starting car decoration ideas it's important to avoid the following things in car decorations exterior.
How to Get Swirl Marks Out of Black Paint | 2022 Ultimate Guide
Things To Avoid:
Sharp Objects:
Decorating your car exterior can be a fun and easy way to show off your personality. However, it is important to be aware of the dangers of sharp objects while decorating. Sharp objects can easily damage both the paint and glass of the car, so take care when choosing what to use on your car.
Things such as blades, knives, keys, and scissors should be avoided while decorating the car. They can easily cut through soft materials and cause serious injuries if not handled correctly. 
So prevent using any of the sharp materials, in case their use becomes necessary, try to use them with caution keeping in mind the damage they can cause to your car exterior.
How to Wash a Car Without a Hose? 5 Superb Methods
Take Care While Cleaning The Car:
Before starting steps to decorate your car exterior, you will have to first clean the car exterior. Here are some tips to help you out:
Start by cleaning the exterior of the vehicle. This includes taking off the dust and debris that has accumulated over time.
Use a soft cloth and mild soap to clean the surface. Avoid using harsh chemicals as this could damage the paint job.
Wipe down any dirt or stray pieces of debris that may have gathered on the bumpers, grilles, and other areas around the car.
If necessary, use a foam cleaner to remove stubborn stains or dirt.
Make sure to dry all surfaces before applying any type of wax or sealant.
Before applying the car decoration ideas to your car, be sure to follow these tips to keep it safe.
How To Decorate Your Car Interior For a Fascinating Look 11 Ideas
Ideas To Decorate Your Car Exterior:
There can be a lot of reasons for car decorations, such as for parades, weddings, birthdays, parties, very special events or attention. And there are many easy, budget-friendly, and different car decoration ideas following which you can use car decorations exterior.
Let's begin the car decoration ideas:
Add Graphics To Your Car Exterior:
Decorating your car exterior with graphics is a great way to show your personality and add some pizzazz to your ride. You can find a variety of graphic designs that can be customized to fit your style. There are even decals available that you can place on the window or dashboard.
There are many different types of graphics to choose from, so finding the right option for you is easy. You can find graphics that will add a touch of class to your car, or graphics that will create a more humorous look. If you want to go all out, there are even graphics that can be customized to match the style of your car.
When choosing graphics for your car, it is important to think about what you want people to take away from seeing your vehicle. Decorating your car with attractive and eye-catching graphics can get drivers' attention and make them more likely to stop and talk to you.
You can also make the graphic yourself. But we would suggest you opt for a ready-made design unless you are an expert in the work. Likewise, to get the work done, seek the help of a professional, as your single mistake can ruin the exterior look.
To make your own design all you need to do is to create a design on firm paper.
Then use magnets, attach them to your car for some time and spray paint, your favorite color, over it.
You can use water-based paint, which is eco-friendly as well. You can also go for acrylic paint, which dries fast.
After spray-painting the graphic, take off the paper and let the graphic dry.
You can create or buy several graphics such as skull, flame, any number, logo, words, flags or wings, etc.
6 Easy Steps To Detailing a Car Exterior Stunning Look
Change Rims Of The Car:
Decorating your car exterior with different rims is a fun and easy way to add some personality to your ride. Not only do they make your ride smoother, but they also help improve the look of your car.
Rims come in all different shapes and sizes, so there's definitely something for everyone. They come in a variety of types, such as steel, aluminum, chrome, and rims with spinner. There are even rim styles that can be used for both daily driving and special occasions. Here are a few ideas to get you started:
1) A sleek, modern design is perfect for days when you want to stay on-trend. Try a set of silver or black rims with a bright color like yellow or green for an extra pop of color.
2) For a more traditional look, go with a set of traditional black or silver rims. These will suit any type of vehicle, no matter how vintage or classic it may be.
You can never go wrong with the money invested in a good set of rims.
Changed rims can be fitted on any car, regardless of make or model. Plus, changing out your wheels can be a cheap way to make a big impact on your car's appearance. So why not give them a try?
Get Your Car a Custom Paint Job:
To decorate your car exterior, the best you can do is to get your car a custom paint job. There are plenty of options available, and you can pick whatever color you want. You can also choose to have designs or images painted on your car. This is a great way to add some personality to your ride, and it can make a big difference in how people see it.
If you want to go with a more subtle look, choose a color that harmonizes with the surrounding environment. If you want to go with a more noticeable look, choose something bright and eye-catching. There are endless possibilities when it comes to choosing colors for your car exterior!
If you're not sure what kind of design or image you want, there are many online resources that can help you find the perfect option. So why not give the custom painting a try? It's an easy way to change up your car's look and feel, and it'll really make a difference in how people perceive it.
All you need is to take your car to a professional, select your favorite color and get the work done. A new paint job can cost between $300 to $1000 depending on whether you are going for a low-quality paint or a high-quality paint.
Get Your Car a New Wrap:
If you don't want to go through a lengthy process of painting a car or have more budget, we would highly recommend you to go for a vinyl wrap than a new paint job.
A professional vinyl wrap can cost $2000 to $5000 but the way it will change the look of your car is unmatchable. A vinyl wrap can change the look of your car to a greater extent. You get tons of different designs and a range of colors. The average life of vinyl is 2-10 years, also the maintenance of vinyl is easy.
You don't have to wash the car more often, all you need is to clean it with a cloth and it will be as good as new. Also, you can remove the vinyl wrap whenever you get boor to bring the original shape of your car.
Getting a vinyl wrap on a car saves it from scratches and helps in retaining the original exterior condition, enhancing its resale as well.
So, whether you're in the mood for something with a modern edge or something classic and traditional, there's sure to be a wrap out there that'll work perfectly for you and help you decorate your car exterior.
Install Neon Lights Under The Car:
Neon lights are not only beautiful, but they also add a touch of excitement and energy to your car. They can also be used as a subtle way to express your personality. When selecting neon lights for your car, be sure to consider the size and type of light they will use.
Some neon lights are small enough to be placed on the side of the vehicle, while others require a more substantial mounting bracket. On average they will cost you $50 to $150 depending upon quality.
Buy neon lights of your choice and ask any professional to install them for you.
Note: Before going for this step, make sure that your state permits the use of your selected neon light color. Many states don't allow blue, green, and red neon.
Attach Personalized License Plate Frames:
Why settle for a boring license plate that came with your car, when you can attach a decorated one. Look into buying a license plate whose decoration reflects your interest.
You can go for a frame that shows something you like, such as a sports team symbol, your favorite quote, or any print.
Note: Before changing the license plate make sure that they are legal and the law permits the design.
Apply Stickers:
As discussed above, you can add graphics to your car on your own. But it needs a lot of hard work and time.
If you want to save time then use stickers as a car decorations exterior. These car decorations include stickers of different flags, graphics, logos, different numbers, etc.
You need to select your favorite one and apply it. You don't need to visit any professional, you can do it yourself. To apply stickers follow these steps:
Step-1) Clean The Exterior:
Once you have selected the sticker, before applying it clean the exterior first.
Wash that area, to completely clean it, and then dry that area with a soft cloth.
Step-2) Start Applying The Sticker:
Once you have washed the selected area of the car, start applying the sticker. Don't apply a complete sticker at once if it is large and seek the help of another person as well.
If the sticker is small you can apply it at once without any ones help.
If the sticker is large, first peel back about a third of the backing and place the sticker on the car.
Press the sticker firmly and start removing the back. Rub the credit card over the sticker to remove the trapped air bubbles.
Likewise, work till the entire sticker is applied to the car without any air bubbles trapped in it.
Once the sticker is completely applied, peel away the backing of the sticker.
Step-3) Peel Away The Transfer Tape:
Now that you have applied the sticker on the car, grab a corner of the sticker's transfer tape and smoothly start peeling it away.
Remove all the transfer tape and enjoy your car's newsticker.
Buy a Custom Tire Cover:
This is only for the people having SUVs. Instead of driving with a standard tire cover, go for a custom one. You get various design options such as flags, logos, animals or landscapes, etc. on it.
If you like traveling, buy a tire cover with having a world map on it and can attach stickers of your visited places.
Decorate Your Car Exterior For Special Occasions:
The most common purpose to decorate a car is to decorate for any special occasion.
These occasions may include any birthday, to give a gift, weddings or Halloween, etc.
Let's discuss in detail car decoration ideas for each occasion.
For Birthday:
Car decorations for birthdays are becoming popular day by day. You can use window chalk and write greetings on the windows of the car.
You can also write the age of the loved one and can draw funny pictures on the windows. Before using chalk on the windows make sure that the windows are clean.
Remember these chalks are specifically made to be used on windows, not on the paint of the car.
If you don't want to use the chalk you can also opt for stickers or balloons as a car decorations exterior.
To Give a Gift:
If you are giving a car as a gift to your loved one, always decorate it before presenting it.
You'll want your loved one to immediately realize that it's a gift. Buy and make an extra-large bow and attach it to the hood of the car.
Make sure to attach the bow with automotive masking tape, avoid using ordinary tape as it can damage the paint.
For Weddings:
You can find hundreds of ideas to decorate your car exterior for weddings. Whatever idea you choose, make sure to always consider three things.
First: wedding colors
Second: Wedding theme
Third: Wedding flowers.
Before decorating your car for a wedding match the decoration with the theme of the wedding. It will give your car a completely new look.
If you don't want to spend a lot of time decorating, a simple idea is an option.
The front grill of the car can be decorated by tying two long ribbons to the front grill.
Twirl the second ribbon around the first one, then pull them both up toward a side-view mirror. In addition to the V-shape, this will also add an attractive bow to the exterior of your vehicle.
For Halloween:
For Halloween, cover your car with spiderwebs.
Attach a spider to the car exterior, and try to give your car a scary look. Don't stick car decorations exterior windshield so that you can drive.
If you're not planning to drive, consider placing scary Halloween props under the hood, such as skeletons or coffins to give your car a scary look.
Conclusion:
These were a few of the car decoration ideas to give your car a different appealing appearance. Before you apply car decorations exterior remember to avoid sharp objects, clean the area first and consult any professional if you are unable to perform the tasks.
You can decorate your car exterior by adding graphics to the exterior, changing the rims, getting a custom paint job, installing a neon light under the car, attaching a personalized license plate, tire cover, applying stickers, etc.
You can also get your car a new wrap and decorate it for a special occasion. Thank you for taking the time in reading this article. This was all from car decorations exterior.
If you want to learn about something tell us in the comment section we will bring that for you. 
Thank You.